Riane Eisler is a social systems scientist, cultural historian, futurist, and attorney whose research, writing, and speaking has transformed the lives of people worldwide. Her newest work, Nurturing Our Humanity: How Domination and Partnership Shape Our Brains, Lives, and Future, co-authored with anthropologist Douglas Fry, shows how to construct a more equitable, sustainable, and less violent world based on Partnership rather than Domination.
Dr. Eisler is president of the Center for Partnership Systems (CPS), dedicated to research and education, Editor-in-Chief of the Interdisciplinary Journal of Partnership Studies, an online peer-reviewed journal at the University of Minnesota that was inspired by her work, keynotes conferences nationally and internationally, has addressed the United Nations General Assembly, the U.S. Department of State, and Congressional briefings, has spoken at corporations and universities worldwide on applications of the partnership model introduced in her work, and is Distinguished Professor at Meridian University, which offers PhDs and Master's degrees based on Eisler's Partnership-Domination social scale.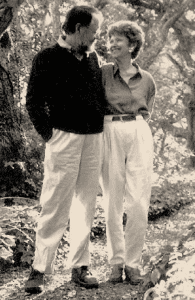 David Loye, Riane Eisler's beloved husband and partner, died of Covid during the night of January 24, 2022. This was two days after they celebrated their 45th Anniversary. We invite you to join Riane Eisler in honoring and remembering David.
Transcript:
Dr. Eisler  00:07
No ordinary Soviets had to stand in line for toothbrushes. I mean for so we were served caviar. And we were in a very fancy hotel in the four years of our suite was a grand piano. And it was like what is following the same domination economic is the connection between what happens in childhood between gender between family and what happens in the state or tribe. So that he, a couple of years ago, radically reduce the penalties for family violence.
Clay  00:53
Welcome to In Search of the new compassionate male. My name is Clay Boykin, I support this podcast through my coaching practice. I help people visualize and harmonize find direction and meaning or simply get unstuck. Contact me at Clay Boykin calm for a free consultation. Now here's the latest episode of In Search of the new compassionate male. Hello
Dennis  01:17
World. It's me Dennis and Welcome to In Search of the new compassionate male. I'm the co host of this particular podcast and I'm here with the founder clay Boykin. Hello clay.
Clay  01:28
Hi, Dennis. I'm thrilled today to have with us Dr. Riane Eisler. Dr. Islur is a cultural historian, attorney, a futurist, a social system scientist and author of I forgot how many books but some of the ones that you may recognize off the top is the chalice in the blade sacred pleasures, the real wealth of nations and the book that came out in 2019, nurturing our humanity, how domination and partnership shaped our brains lives in future. So Dr. Islur welcome.
Dr. Eisler  02:05
Thank you. And thank you Clay for starters, for the wonderful article that is actually on our website, Center for partnership.org. And for all the work that those of you are doing to really help men be human in the full sense of the word because it's not only women who are challenging the old stereotypes, but men and that is such an important part of what I call the movement from nomination to partnership. So thank you.
Dennis  02:53
You're You're You're so welcome. Because this is what whatever I know that that we're going to be able to work our way through this. This has to be a partnership, it has to be a collaboration. It has to be synergistic. One plus one is greater than two, and we've lived for so long in this zero sum. economic reality and that's not how economics works as far as I understand it. And you're talking about the new economy, how we're going to create this and work in your work in economics and your your thoughts systems about the partnerships. Could you talk a little about this and what's on your mind and heart?
Dr. Eisler  03:34
Let me start have Seaford may start with, on a more personal note, please. Because I have a great deal of passion for this work. And that passion is actually rooted deeply in my own early life as a child refugee with my parents, Nazi Europe, from Vietnam, where I was born, and very early in my life. And this is really directly now related to your question. I began to ask questions that I think most of us have asked at some point in our lives, does it have to be this way? When we humans have such a tremendous capacity, both women and men or consciousness for caring for creativity? Why has there been so much insensitivity, so much cruelty so much destructive test and start to do my multidisciplinary cross cultural trends historical study? To answer that question until much later, but I as you mentioned, Clay, I'm an assistive person and I'm interested in what kind of society will support our end No, I'm assuming capacity, as I said, we're carrying the consciousness for creativity, rather than because we obviously also have laws, then we're insensitivity, cruelty destructive. And in the course of this work, I, of course, look at our past that are present, and most importantly, at the possibilities for our future, including our economic possibilities with this book that came out of this study was the chalice in the blade. And then came sacred pleasure. And then a number of other books. And then I realized that I could not answer the questions of my childhood, by looking through the conventional lenses of capitalist versus socialist, west, north versus south, religious versus secular, etc. And I kept seeing these two configurations, the domination system and the partnerships this. And I then applied the, these two systems configurations, to the study of economics, which goes right to your question was the book called The Real wealth of nations. And something that really struck me is that the mindset that we have inherited, is so strange. It's really our heritage from earlier more rigid domination times. And it is to the values of most important human work, which is the work of caring, what people are curious, and caring for our natural life support systems. And if you look at those, the work of Smith and Marx, you see that for them, this work was to be done for free by a woman in a male controlled household. Yes. And, you know, when we were supposed to take care of children of the sick, keep a clean and healthy, warm environment, which of course then translates into keeping a clean and healthy planetary environment.
Dr. Eisler  07:41
There is nothing in either capitalist or socialist theory about caring for nature, nature, as far as closeness and marks were concerned, is simply there to be exploited. That's it. And as I said, the work of caring for people starting in first, that's women's work, be done in a male controlled for free, the male controlled household, and they call it reproductive rather than productive. So if you fast forward to GNP, that is what it reflects. It's an economic ground, that simply excludes the three life sustaining sectors, without which we would not be here, without which there would be no economy, the natural economy, the volunteer community, economy, and the household. So when you're asked me this question, it's impossible to add to answer it in terms of the old debate that so many people are still engaged in capitalism versus socialism or communism. Frankly, a colleague of mine calls these old categories weapons of mass destruction. Our consciousness,
Dennis  09:10
yes, and one of the things that I love about what you talked about duck price for was about how the, we measure GDP, and we do not take into account so much that the measurements are way off how and I love that if we were to take if we were to rearrange our rearrange what we measure that would account for taking care of our humanity and raising our children taking care of our planet, doing the volunteerism and have that, that that would very quickly give us an entirely different measure,
Dr. Eisler  09:51
completely studies a recent Australian study of the economic value now And then, you know, let's talk in those terms of the work done for free, the household of caring for people, including children. But if that were included, it would constitute 50% 50% reported by Australian GDP. But as I said, GDP follows the same very limited approach of both Marx and Smith, even though both actually challenged some elements of what I call domination, economics, because it goes way back, it isn't just neoliberalism, which is really a replay or trickle down economics, you know, it's sort of a replay of this futile idea that goes on bottom, should content themselves with the scraps, right, dropping from the opulent tables of clothes on top, to Chinese emperors, into passions and to sheiks and to it really. Yes, I mean, it's deeply rooted. And it is domination, economics, that we really are addressing this idea of top down, trickle down. Exactly, because
Dennis  11:27
we're seeing that we're seeing that so much aren't we try?
Clay  11:31
Yes. Gosh, I was just watching the news before we got onto this podcast. And they were talking about the huge palace that has been built off the books for Putin, hundreds of some odd 1000 square feet, just incredible place and underground, hockey, you know, field and, and so forth. And it's speaks to exactly what you're talking about. Dr. Islur?
Dr. Eisler  12:04
Oh, absolutely. Then, of course, I mean, I remember when I was invited to by Nordic women for peace, to miss them on a march to unlearning God. And they had previously done a peace march on Washington, DC. And the class structure was so clear, you know, ordinary Soviets had to stand in line for toothbrushes, I mean, for soap. But we were served caviar. And we were in a very fancy hotel. In the four years of our suite was a grand piano. It was like what is following the same domination, economic. But it's interesting. And that really takes me to the configuration of the partnership of domination system. We recognize something that is inherent to the analysis of the systems, or systems analysis of the partnership, domination, social scale, because it's always a better a good way. Nice the connection between what happens in childhood, between gender between family, and what happens in the state or tribe, so that he, a couple of years ago, radically reduce the penalties for family violence. Oh, I always recognize it. If you look at the Taliban, which is religious, and Eastern, or if you look at ISIS, the same thing or for men is Iran. Or if you look at Hitler's backseat Germany, work for that matter Salus, former Soviet Union, they were always into strengthening or maintaining the kind of family but it is one of the real foundations are a highly punitive, rigidly male dominated authoritarian. It's simple once you start looking for it, but we have, especially those of us who aren't good educated in higher education, right. We've been taught, I mean, how I remember one day, sort of waking up, is it from, from what I today call the domination trends, and realizing that in all my years of so called Higher Education, there has hardly been anything by about or for people like me, women, such as for children, where we've been somewhere buried in so Domestic course or some family relations course is beginning to change the little bit. But not that much we were taught that the majority of humanity and anything pertaining to it to women and children, is not really important enough to be included in what we are taught is important knowledge and tools.
Dennis  15:27
Were very, this, this is part of our mission. Because we believe we, we understand that we cannot, that this is not sustainable. We know that and so as we are in search for the new compassionate male, we are in search of that within ourselves, then both of us are in a journey of our own awakening through our own conscious and unconscious biases. Because from from our standpoint, from a we know that this is not working clay, you talked about that, that we men, the roles that we are assigned are very, all very often completely at odds with who we think we are, yet we we have to fit into some stereotype to be able to do it. You were talking so much about about trusting men clay, yes, as a Marine, Dr. Islur he was a Marine and went through all of the all of the the high, high concept male archetypes that that you would you would consider coming through this process.
Clay  16:37
You know, thanks, Dennis. There are many things that I learned. You know, one was that leadership is about servant leadership, even on the core. And there's an undercurrent of compassion. And I didn't have a name for it until out after I was out of the core, and began to look back and realize how even in situations like that, even in harm's way that men taking care of men range taking care of Marines. John 1513, Greater love has no man than this, that a man lay down his life for his friend. That's all compassion. And what genocide are the past couple of years? We believe that there's an undercurrent, it's men, compassionate man out there. And I would like to believe that that that momentum is growing, is rising. And I don't see it out there on the news or anything, but when I'm talking with men and white men circle and so forth. It's there. And, you know, my hope is that it's able to really surface.
Dr. Eisler  18:07
and this can only surface if enough of us including men, like you and Dennis, that help men to give up the sport domination. Yes, real masculinity of not being like a woman. Because as long as we have the stereotype, that being like a woman is to be compassionate to be caring to be really gone violent. When you have this this problem that men face, I think that we are at a time when this very rigidly binary stereotype stereotypical which is necessary for domination systems because yes, later, but if you don't have these rigid stereotypes, how can you rank code masculinity? Over femininity? Yes, men over women. But this said, Men, Judo here we're talking about with thinks nothing of sending his, you know, his his soldiers to be killed. I mean, for millenia. Men in Domination systems that had to give nothing less than their lives because some guy on top like Putin wanted more in real estate.
Clay  19:39
Yes. Young men fighting old men's wars. Yeah. You know, the one thing that came up on a podcast just last year, we were talking about in terms of solar and lunar energy, and it was Howard Tyson. He said, you know, play Think about it this way, you know, we all have this energy, we all have the solar and the lunar, we all have the male and the female aspects to ourselves. Think about it like this. The lunar leads in the solar executes. And I thought to myself, no, wait a second. But then I thought back and back to the core. This is where leadership comes from. And so if we men are out there, thinking we can leave just from the head, cut off it and not acknowledge the essence of who we totally are, then we're really making a big mistake. And so to me, it's this integration of head and art, it's not one or the other. It's the integration that that is a must.
Dr. Eisler  20:52
Well, I think that this is a good starting point. Because you are of course, still talking about domination archetypes here. The veil is equated with reason, I think of how reasonable our leaders Thank you for saying that. I so appreciate you saying that, please. It's no young does this use was a mess when it came to gender stereotypes. I mean, his UNIMIN analysts? Yes. I'm the mus is active is Bula, you know, protagonist, and what is the Anima? It's either man's inspiration or nemesis. Right? Completely relational. And the truth is that we're all relational to each other. And then one of the problems that men in Domination systems have had is that their models for masculinity have been that you have to excel you have to accomplish, you have to, and really, you know, I hear people talking about the problem is ego ism. And I have to laugh because women weren't supposed to have an ego.
Dennis  22:16
Oh, not the women. I know. I know, some pretty powerful women that goodness.
Dr. Eisler  22:23
Now you do. But you know, the old stereotype women were not protagonist.
Dennis  22:31
How did you how did you as a young teen, as powerful as you are doctor as I mean, I because I feel it your your, your intellect, and your heart and your drive and is so strong? How did you as a as a teenager, and how did you react to the world? How did that? How did that what was that experience like?
Dr. Eisler  23:00
This night? No transformation is possible because I have, I have experienced, okay, I was kind of a mess as a teen. I mean, I wanted desperately to belong, because I've, I've been an outsider all my life. And, you know, I was obviously cast out from as an outsider. Before I was born, I was an outsider growing up in the industrial slums of nirvana. I was an outsider here in the United States. When I came, I even pledged a sorority, which I then disaffiliated from, but I had no gender consciousness. I mean, I, I have to tell you, and that lasted into my 30s. Okay. I when I graduated UCLA law school, I was looking for a part time job with a entertainment law firm. That's where my head was. It wasn't, by the way. I mean, what it's about is massaging people's egos and counting, helping them count their money, or increase their money, but the head of the firm called me in one day to compliment me on some work I had done. And you know what he said to me, and he meant it as a compliment. But what's much worse is I took it as a compliment. You don't even great job to don't think like a woman. And I took it as a compliment. But this is the kind of thinking of being socialized, you bet. And so it wasn't really until I sort of woke up. List domination trends My 30s that went along with 1000s of other women.
Dennis  25:07
Yes, yeah. And What years were these?
Dr. Eisler  25:10
What years were about the 60s, the 60. So this was during Exactly. So this, this was when we first began in the Women's Liberation Movement here in the United States when it wouldn't when it was, I mean, it had begun. And of course, it was earlier than that. But when we began to get some momentum and going toward that, and getting the era started to started to be passed,
Dr. Eisler  25:34
well, and I wrote the only last paper where on the proposed Equal Rights Amendment, it's called the equal rights handbook was published by A, but it's still available online. And unfortunately, it's still relevant. But I really want to return now to the the intimate partnership aspects of my life, please, my second word for the love of my life. My husband, David Loy. We're together for 45 years, and who recently died, and I will be left without him. But he was a caring man that he worked with me on the equal rights handled this way to Africa, to the Robie conference UN Conference on Women in writing a deep dive. And caring is not a human characteristic for goodness sake. And the fact that it's been so, so suppressed in our culture, especially in men, but also in some women, we all know that no caring men and we know women who are not caring. And we know that people who are stuck in these gender stereotypes. And by the way, the study that I cite, in nurturing our humanity is very interesting. People who voted for Trump, the US election, one thing they had in common was not economic hardship. I mean, that was okay. But two things were the very interesting around which fit was the configuration, which I really have to tell you about at this summit. was one thing was a horror of women who stepped outside the domination stereotype of femininity. In other words, people like Hillary Clinton, people, you know, women who were assertive. Yes. But the other thing, which is fascinating, and it's so much with the configuration of the combination of partnership systems, is that in times in terms of what they were trying to teach their children and help their children realize, wasn't curiosity wasn't empathy. It was really more obedience, conformity. And of course, it makes sense, doesn't it? And women have become many women. I mean, look at 70 million people voted for Mr. Trump. Yes, many of them were female. They have internalized this, which takes me to the configuration which I do want to share at some point, because
Dennis  28:53
I want to I know that it broke my heart, Doctor eyes or when because I, I had I believed that Hillary Clinton was going to be that every every woman would secretly who was who was outwardly Republican would secretly go into the, into the ballot box and, and it was the it was the 20th anniversary of my what my wife and I that night, November the eighth, and we and we had our celebration all set, and my heart was broken. I mean, I couldn't believe that women would not stand up. And then I said, I must, I must not have this right. There must be there. There's something I'm missing.
Dr. Eisler  29:40
Well, I think that it just shows that what we're talking about is not an issue of women against men or men against women. It really is an issue of changing the underlying worldview. And was it our economic system Family Systems, you know, I've mentioned already, I mean, the trend towards for example, authoritative, non violent rather than authoritarian and violent parent thing is very important partnership trends. The trend towards non binary, flexible, fluid gender roles. That's the trend. We have to recognize this. And it's very hard for people because if you look at the modern social movements, they've altered actually, the progressive social movements have all challenged the same thing, a tradition of domination, you know, whether it is a movement against the so called divinely ordained, right of kings to or of men, divinely ordained, right? Again, men to rule over women and children are of a quote superior divinely ordained that your your superior is to rule over inferior was all the way to the environmental movement. Challenging are ones hallowed conquest, and domination of nature. But they focus on trying to dismantle the top of the combination of politics and economics is conventional. And pretty much a secondary to women's movements with children's rights, movement, spirituality, movement, etc. All of which are there, you know, the foundations, and they were domination systems that kept rebuilding themselves, like in Russia, that authoritarian, punitive, rigidly male dominated family is still the ideal No. Really change
Dennis  31:59
where you are going to talk doctor about the configuration in the reconfiguration? Could you bring that to us?
Dr. Eisler  32:05
I'd like to do that. Because as Einstein said, we cannot solve problems with the same consciousness that created Thank you. And language is a very, very important that linguistic psychologists have long told us that the categories provided by a language. And this is particularly true of social categories. They channel our thinking. So it's almost impossible to see a culture. So if you look at the conventional categories, for one thing, is kind of silly, that people don't seem to notice when they start arguing about religious versus secular, Eastern versus Western or capitalist versus socialist, that there have been repressive violence regressive cultures in all these categories, and continue to be and they also don't notice that these categories either marginalize or ignore or say they should be subservient, nothing less than the majority of humanity, women and children. Yes, now, we cannot have whole systems change, without taking into account these foundational relations, which Neuroscience tells us that what children observe or experience in their early years, shapes, nothing less than the architecture of art. So I'm proposing that we need to change our language about societies and start talking about shifting our cultures not from capitalism to socialism or from socialism to capitalism or not left to right or from right to left or whatever. But of shifting from domination to partnership, and there are four core components of these systems of figuration. One is a top down also rich area, structure in both the family and the state or tribe, the economics, etc. Okay. The second part of the figuration is something that is marginalized or ignored gender relations, and this is where you both come in, because we domination oriented societies invariably rank one form of humanity. male form over the female. Yes, and that is a template for you. equating difference beginning with this fundamental difference in form in our species with either superiority or inferiority, dominating or being dominated, being served or serving. So it's a template for indoor versus outdoor thinking and you move to the partnership side, and you can see it in much of our prehistory. I wrote extensively about that in many of my blocks, because the evidence is overwhelming that for most of our human cultural evolution for 1000s of years, we oriented more to the partnership side and that the domination system shift occurred in the mainstream of culture will be about 5000 years ago,
Dennis  35:58
yes, with the with the creation of private property with a concept.
Dr. Eisler  36:04
Not necessarily there are many, many theories about certainly technology, including agriculture. So, they turn towards the domination side, at a certain point, but the early agrarian societies, like shfm, Jolla, for example, in Turkey, in the plains of Turkey, which is the largest Neolithic site ever excavated, was more egalitarian, by the size of the houses by the types of grave was more gender balance. Ian Hodder with the archaeologists, who excavated most recently there has an article in Scientific American about really being born male or female, did not affect your status in life. And of course, there are no signs of distractions through warfare, or over a spy was yours.
Clay  37:16
Help me Dr. Eisler. What What was the timeframe that he was excavating? What what timeframe in the history was
Dr. Eisler  37:26
about? From about? I think about 6000. Before the Common Era, okay. Onward. But these were very early farming settlements. This was a huge town in the back exactly.
Dennis  37:44
The way it was. It was a it was an amazing economy, wasn't it? I mean, it was very.
Dr. Eisler  37:51
It was an amazing economy. I mean, we've been told so many false stories, stories that work, this notion that there are only two possibilities for us, we either dominate or were dominated. Think of the categories that are gender specific. matriarchy, patriarchy. I mean, yeah. Either women rule or men rule. The fathers or mothers. There is no partnership alternative.
Dennis  38:21
Is there any word for it? Well,
Dr. Eisler  38:24
I coined the word guy, let me say it again. Di Lundy, Dinah, for a woman under a strong man and L in English for linking. wonder, why don't you go back to me reading the chalice and the blade let me continue with the configuration because the amount of abuse and violence is very, very different in the Domination and the partnership system and to actually see the art changing radically. I mean, art is a symbolic language, you know? And if you It's fascinating but if you really leave behind you know the conventional thinking of the linear evolution No. Evolution like everything else wasn't even there. But anyway, domination systems require a high degree of abuse and violence all the way the wife and child breeding grounds, lynchings warfare, to maintain themselves because how else you maintain these rankings with men over man man or woman, race, civil race, religion, religion, etc. Partnership side yeah, there is some violence people lose it sometimes. But it isn't built into this. And that makes a huge difference and of course, the forest part store Are we are we I mean, we've inherited the story that well, whether it's selfish genes or original sin, the same story is that, yes, they fight each other. But with simply the same story, we're bad, we have to be controlled.
Clay  40:26
So I'm just testing my understanding, you're talking about the four being the family in childhood relations,
Dr. Eisler  40:34
then I'm talking about structure, structure. And I'm making the, the connection immediately between the structure in the family and the structure in this later drive. And I can give you a contemporary example, the countries that today ranked highest in the happiness reports, as well as very high in the world. Economic Forum's Global Competitiveness reports, etc, are nations that have moved more to the partnership side are the European nations like Norway, Finland, Sweden. And they have, I mean, let's look at the partnership structure here for a moment, because it's not only in the family, but also in the Slater tribe. That is where democratic, they're not socialists, they have more caring policies, because of the second component, because the status of women has risen, so that half approximately, of their national legislature is female. And as the Status of Women rises, men will no longer feel that this is an integral connection between changing male masculine stereotypes, and the devaluation, the hidden system of gendered values that we've been living with, and are trying to leave behind. Because as the Status of Women rises, men no longer feel it's such a threat to their identities, to their status to their masculinity, to also embrace caring policies. So these nations at universal health care, very good quality, childcare, accessible, well paid, government supported. They have very generous paid parental leave for both mothers and fathers. And that's precisely why we have such a successful business sector. You know, I, it makes me wonder, where, where's the what flips the switch? What would cause them to begin to make this change? There's many theories about it. One is the agriculture theory. And private property, which I certainly in some places, maybe it happened that way. But in Europe, in the area surrounding the Mediterranean, there is mounting evidence, including DNA studies showing that it was through armed invasion from the fringe areas of our globe, where as a matter of fact, the shift from gathering hunting was not to agriculture with to birdie. And herding, as we know from problem with cattle today is not a sustainable way of really, technologically speaking, it's a lousy technology, because it depletes without giving back. But in these societies, for a number of reasons, and I deal with that in some detail, in my book sake with pleasure, which is kind of a heresies with it, there's a message behind that. Well, you have it, of course I have it. Like you remember, I mean, like the bonobos, which are one, you know, one, one chapter in there. Yes. Our closest primate relatives, in difference is the common Chimp, but they're much more partnership oriented and they share leisure. Yes, food, they share sex. I mean, it's a completely different social organization. And we have that capacity As shown by these millennia. So we have to change our stories
Dennis  45:09
are when you look at your grandchildren, Dr. Eisler for do you have? Does this bring you hope? Do you see a difference in their consciousness? And and what is going on with them? What what is your sense about what's going on in the, in the race mind consciousness of humanity as you look out through the eyes of your grandchildren?
Dr. Eisler  45:33
Well, I think my grandchildren are very aware of them, that we need new thinking. I mean, they're looking for it. But it's really interesting because, you know, I used to be even I still occasionally still do, or give a lot of keynotes to major conferences. Yes. And people buy into this, when they hear me, pulled back by the culture. So it's our job. And really, we owe it to our children and generations to come to start using the terms, partnership system domination. Because if we don't, people will say, Well, what do you mean by that? Or what do you mean by a caring economics of partners? People will ask, but it's up to the, to those of us who are agents of cultural change like you to, to start using different tools, and to start helping people to see connections that are made invisible by the domination chance.
Dennis  46:52
I'm so glad to hear you say that because one of my quests in this life is to ask people and to really understand what is enough? Have you set that number by will ask a person have you set a number that you would know at least when you hit it when some economic or or or other marker would be hit you ago? Okay. Yeah, I've got it I've got because I don't hear it being asked, and I don't. And that's just the mindset.
Dr. Eisler  47:24
Well, you know, in nurturing our humanity, there are studies showing that in societies where there is a lot of accumulation of the top, which by the way, domination economics creates artificial scarcity. I siphoning resources to top five cleaning services into Parliament's weapons wars, and also by failing to invest in caring for people starting at service. I mean, children, especially for our post industrial knowledge, service economy, our most important assets for goodness sakes,
Dennis  48:06
I love that doctor because when, when we talk, when I talk to friends of mine who describe themselves as conservative, I go, What a great word to conserve you, you don't drive your car and never take it into the into the mechanic and put oil and take care of it. We take care. What is this wonderful word conservative? Why don't what our what are we going to conserve and nurture and support?
Dr. Eisler  48:35
Well, but for the, quote, conservative mind, and there are studies in virtually our humanity showing that actually are very structure of our brains. People who consider themselves very conservative, have very rigid brains based on denial. And it's related to the development of part of the brain that is not as well developed, as in people who are less quote, conservative, conservative and liberal, are pointless words for me. Just make us fight each other. Dr. Islur. While you're talking about the brain, you made the point in a recent podcast that the pleasure centers light up in our brain when we care and share more than more than when we dominate. So so when I go win the football game, and I'm spiking, the football app feels great. But test not as great as feeling that I would my pleasure centers would light up when I'm caring and sharing is that that is EPS salutely True. And you know, many studies have shown that people are happier when they give. That's what makes us feel good. But, but this empathy, this hearing has to be either suppressed or compartmentalized. So it only applies to the in group. In Domination systems, whether that in group, right, it's the in group of code mankind, female, other or divided states, whether it's whites versus blacks in the Middle East, whether it's Shia versus Sunni, or Sunni versus Shia, it doesn't really matter. And other rising, right. Yeah. Other right. And that's really with that very basic model. Yeah. It's not coincidental what I spoke about earlier, the correlation between wanting to either maintain or impose this is the punitive widget vo dominated authoritarian family, and what kind of regime?
Clay  51:16
Dennis, remember when we talked with Dr. Doty the other week, and one of the key points that was made was that compassion, empathy and compassion is, is innate, it's part of our DNA, and it's got to be nurtured. It has to be nurtured. And that's, of course, the whole point of I mean, if there is a central point, and there are many points in nurturing our humanity, it is that it isn't a question of genes. This is a question of gene expression. And that happens to action with our environment, especially in the first years, we can change. I mean, people can do did
Dennis  52:02
a good doctor, I mean, you look at your evolution.
Dr. Eisler  52:06
I had a whole evolution. And David was really part of that evolution. And part of my journey. I can I can honestly say that, on a personal level partnership is just so wonderful is so pleasure.
Dennis  52:27
Doctor, thank you for sharing David with us and bring him along in this. It's very, he's very palpable to me just in how you how you have shared how he is part of you today. And as as strong as as he is sitting right, sitting right within you.
Dr. Eisler  52:49
Well, they did some very important work. Because he wrote me tons of poetry, which I think is very good. I published a book called 100 days of love, this 100 days that we were together for a day. Oh, that's another story. But he wrote he thought it was a pioneer in retelling the story of Darwin's evolution, because at Davis word, Darwin has been used by the domination system is this 800 pound gorilla, to say, hey, what matters is, you know, the survival of the fittest was the fittest defined as the meanest right? And in his book on human evolution, Descent of Man, Darwin explicitly said, at the level of human evolution, random selection, and all these other mechanisms may fade in importance. What is important now is culture and love. He wrote so many times about love, and he actually apologized that for using the term survival of the fittest, which wasn't history, it was a term. But anyway, so I highly recommend David's book, Darwin's last theory,
Dennis  54:20
Doctor, thank you so much for giving us this opportunity just to spend some time with you. And to know the I guess, before I want to go if you if you could just tell me some of the VISTAs some of the things that curiosities that you're going to be exploring in the near future,
Dr. Eisler  54:39
and I will continue to do my teaching. And by the way, on a center for partnership.org you can find a way to really take a self paced course called Changing our story, changing our lives and up Do it for groups and then you get to own the for videos and to use them yourself in your presentations as well as all of the resources on my list that I am now working on giving background to David's extensive poetry in a book that I calling tentatively called for what was the title of one of his times, which is yet love remains.
Dennis  55:31
God is how precious thank you for giving us this time today for spending your time here on this planet with us what we do, clay has Shepard this over 100 podcasts and when he said that we were going to have you it was like this was the ice this was the cherry on the ice cream sundae of our of our time to be able to be able to spend time with you and the grace that you brought to us and that you brought to the planet Dr. Eyes for thank you so much for your time.
Dr. Eisler  56:04
Thank you goes with a very very good for being you.
Dennis  56:13
Thank you world and thank you everyone and we will see you next time on in search of the new compassionate mayor.
56:21
Check out the latest episode of In Search of the new compassionate mail on your favorite podcast Station.