Clay Boykin
Life & Business Coaching
Because we all get stuck at times
Clay Boykin
Life Coach
Let's journey together
We all get stuck at times. You may have felt the fear and anxiety  of being stuck trying to figure out a problem, or how to take action on an opportunity. Or you may be feeling stuck with life in general, or maybe it's your organization that is struggling. It's certainly no fun and last thing you want is for someone to try to fix you with some formulaic, multistep, one size fits all, process.
I believe we have the answers within and my role in coaching you is to create a safe space in which to access those answers, awaken your true self, and help you get unstuck.
Recent Clients & Endorsement
My Personal Mandala of Life
…a counterintuitive, uplifting and practical approach…
As your personal coach, I will work along side you as we take a counterintuitive, uplifting and practical approach to working together. We will co-create a new lens through which to view your world. We will discover new possibilities and find answers to your questions and challenges.
Let's talk. Schedule a 30-minute Discovery Call. Let's see if we are a match.
A quick rundown
Published Author
Founder – In Search of the New Compassionate Male Podcast
Speaker and Workshop Facilitator
Former exec and change agent in the hi-tech industry
Former US Marine Corps Office
Founder – Men's Fellowship Network: Circles of Men Project
Book & blank journals available on Amazon:
"What is in a man's heart? As a man, you are the only person who truly knows, and the likelihood is that you protect what's at your very core from other men and perhaps the woman or partner in your life. But it is within your heart where your deepest questions are left unanswered.  Fear of being vulnerable and shame keep us from connecting with another man, yet it is only when we open our heart that these questions get answered." – Excerpt: Circles of Men
Introduction: Over the years, creating mandalas has been a special form of journaling and meditation for me. Relaxing into the white spaces within each mandala awakens my awareness that something greater is there to be found, both within the mandala and within myself. Being in this special space gently moves me away from binary thinking and into the richness found in the spatial relationships between the words and symbols, the geometric patterns, and the hidden messages only I can see.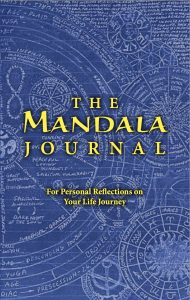 Although some of the mandalas were created years ago, they are like a once well-read book picked up and read again. The content is the same but new discoveries and new meanings emerge. The watermarks taken from my journal pages are presented merely as prompts to awaken you into your own special space, to create your own mandalas, to trace or draw over, or to merely doodle. Whichever, you choose, may your journey within be filled with self-love and compassion.
Your content goes here. Edit or remove this text inline or in the module Content settings. You can also style every aspect of this content in the module Design settings and even apply custom CSS to this text in the module Advanced settings.
Podcast – Feature Episode
EP 114: Howard Teich on Alchemy In Today's World
Alchemy from a depth-psychology perspective has much to say about personal growth, metaphysics, spiritual transformation, and the individuation process. In this podcast episode, Howard Teich adds dimension and texture to this fascinating topic and touches into the relationship between Sigmund Freud and Carl Jung; comparing and contrasting their work.  Alchemy is a word heard more and more often yet its meaning is mostly lost. Alchemy conjures vague mental pictures of robed men stirring large vats of bubbling water, apprentices cranking spigots to keep the fires burning. Half witch, half wizard, a definitely crazed scientist from sometime in the middle ages is the commonly held understanding. Recently the word is heard more often to indicate some kind of transformational shift that has taken place or is about to take place. The nightly news, for instance, might say casually "what's needed now is an alchemy of change in the House and Senate." And, on a personal basis, relates to one finding their path in life toward creating their greatest contribution to the world… their magnum opus.
For the greater good:
I am In Search of the
New Compassionate Male
I support this podcast and my work in Africa through my personal coaching practice and through viewers and listeners like you. Join me in my search.
The Spiritual And Religious Alliance for Hope, S.A.R.A.H., serves as the fiscal agent for The Circles of Men Project. Tax deductible donations and sponsorships are dedicated to supporting Circles of Men workshops and retreats in the U.S. and Africa, and expanding the global reach of the podcast.