Clay Boykin
Life, Career & Business Coaching
Because we all get stuck at times
Clay Boykin
Life Coach
Let's journey together
We all get stuck at times. You may have felt the fear and anxiety  of being stuck trying to figure out a problem, or how to take action on an opportunity. Or you may be feeling stuck with life in general, or maybe it's your organization that is struggling. It's certainly no fun and last thing you want is for someone to try to fix you with some formulaic, multistep, one size fits all, process.
I believe we have the answers within and my role in coaching you is to create a safe space in which to access those answers, awaken your true self, and help you get unstuck.
Recent Clients & Endorsement
"Clay has been a mentor and life coach to me for 8 years. His gentle approach, rooted in wisdom, intuition and wholeheartedness, has helped me traverse some of life's deepest challenges as well some daily decisions."
Kevin Wood – Award Wining Composer/Producer
Video testimonies from men and women
…a counterintuitive, uplifting and practical approach…
As your personal coach, I will work along side you as we take a counterintuitive, uplifting and practical approach to working together. We will co-create a new lens through which to view your world. We will find, or affirm, your purpose in life, and we will discover new possibilities and find answers to your questions and challenges.
Let's talk and see if we are a match. Schedule a 30-minute Discovery Call below.
You may be stuck or have a good employee who is stuck and distracted by life in general or is having difficulty organizing their priorities both at work and outside of work; someone who needs a seasoned non-judgmental person to work with them offline to help them basically get unstuck and increase their productivity.
By taking a non-traditional and unique approach, I guide individuals in reframing their challenges, discovering their strengths, and realizing their true potential.
I work with corporate leaders in both the business unit and HR, as well as startups, small/medium-size businesses and non-profit organizations.
My leadership experience includes: Fortune 100 – Operations, Business Development, Marketing & Marketing Services, Sales; and Principle in a tech startup.
For the greater good, 10-years ago I founded the Men's Fellowship Network/Circles of Men Project which is now a global organization, am the creator and host of the podcast, In Search of the New Compassionate Male; and author of the book, Circles of Men, A Counterintuitive Approach to Creating Men's Groups.
I have been a mentor/coach to individuals across the gender spectrum, am a trained gender equity facilitator, an organizational change agent in the business world, and am a former Marine Corps Officer.
In Search of the
New Compassionate Male
I support this podcast and my work in the U.S., Europe and Africa through my personal coaching practice and through viewers and listeners like you. Join me in my search.
The Spiritual And Religious Alliance for Hope, S.A.R.A.H.
, serves as the fiscal agent for The Circles of Men Project. Tax deductible donations and sponsorships are dedicated to supporting Circles of Men workshops and retreats in the U.S. and Africa, and expanding the global reach of the podcast.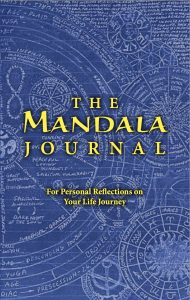 Although some
of the mandala watermarks were created years ago, they are like a once
 well-read book picked up and read again. The content is the same 
but new discoveries and new meanings emerge.
The watermarks taken from my journal pages are presented merely as prompts to awaken you into your own special space, to create your own mandalas, to trace or draw over, or to merely doodle. Whichever, you choose, may your journey within be filled with self-love and compassion.
Book Excerpt: "What is in a man's heart? As a man, you are the only person who truly knows, and the likelihood is that you protect what's at your very core from other men and perhaps the woman or partner in your life. But it is within your heart where your deepest questions are left unanswered.  Fear of being vulnerable and shame keep us from connecting with another man, yet it is only when we open our heart that these questions get answered." – Excerpt: Circles of Men
Journal Introduction: Over the years, creating mandalas has been a special form of journaling and meditation for me. Relaxing into the white spaces within each mandala awakens my awareness that something greater is there to be found, both within the mandala and within myself. Being in this special space gently moves me away from binary thinking and into the richness found in the spatial relationships between the words and symbols, the geometric patterns, and the hidden messages only I can see.