Clay Boykin
Life, Career & Business Coaching
Because we all get stuck at times
Clay Boykin
Life Coach
Let's journey together
We all get stuck at times. You may have felt the fear and anxiety  of being stuck trying to figure out a problem, or how to take action on an opportunity. Or you may be feeling stuck with life in general. Maybe it's your organization that is struggling. It's certainly no fun and the last thing you want is for someone to try to "fix" you with some formulaic, multistep, one size fits all, process.
I believe we all have the answers within and my role in coaching you is to create a safe space in which to access those answers, awaken your true self, and help you or your organization to get unstuck.
"Clay has been a mentor and life coach to me for 8 years. His gentle approach, rooted in wisdom, intuition and wholeheartedness, has helped me traverse some of life's deepest challenges as well some daily decisions."
Kevin Wood – Award Wining Composer/Producer
…a counterintuitive, uplifting and practical approach…
As your personal coach, I will work alongside you as we take a counterintuitive, uplifting and practical approach to working together. We will co-create a new lens through which to see your world. We will find, and affirm, your purpose in life, we will discover new possibilities, and find answers to your questions and challenges.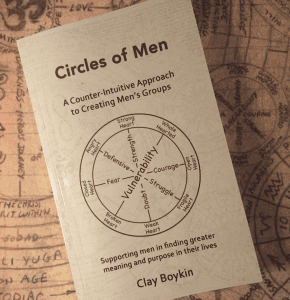 Circles of Men: A Counter-Intuitive Approach to Creating Men's Groups, is a self-help book. The book describes a specific model for creating and facilitating men's groups, which are meant to provide a safe and supportive space for men to explore their emotions, connect with other men, and work on personal and collective growth.
The author, Clay Boykin, draws from his own experiences as a facilitator of men's groups and shares his insights into the unique challenges and opportunities that men's groups can offer. The book emphasizes the importance of creating an atmosphere of safety and trust, where men can be vulnerable and honest with each other, and it offers practical advice on how to do so. The book also covers a series of exercises and activities that can be used to facilitate the group's sessions. They are meant to help men to explore their emotions and inner selves, to find their authentic voice, and to create deeper connections with other men.
The book's counter-intuitive approach, as stated in the title, is the idea that men's groups are not only beneficial for men, but that they are also essential for the well-being of society as a whole. The author argues that men's groups can play a crucial role in addressing issues such as toxic masculinity, men's mental health, and the breakdown of communities, by providing men with the tools and support they need to become more authentic, compassionate, and responsible individuals.