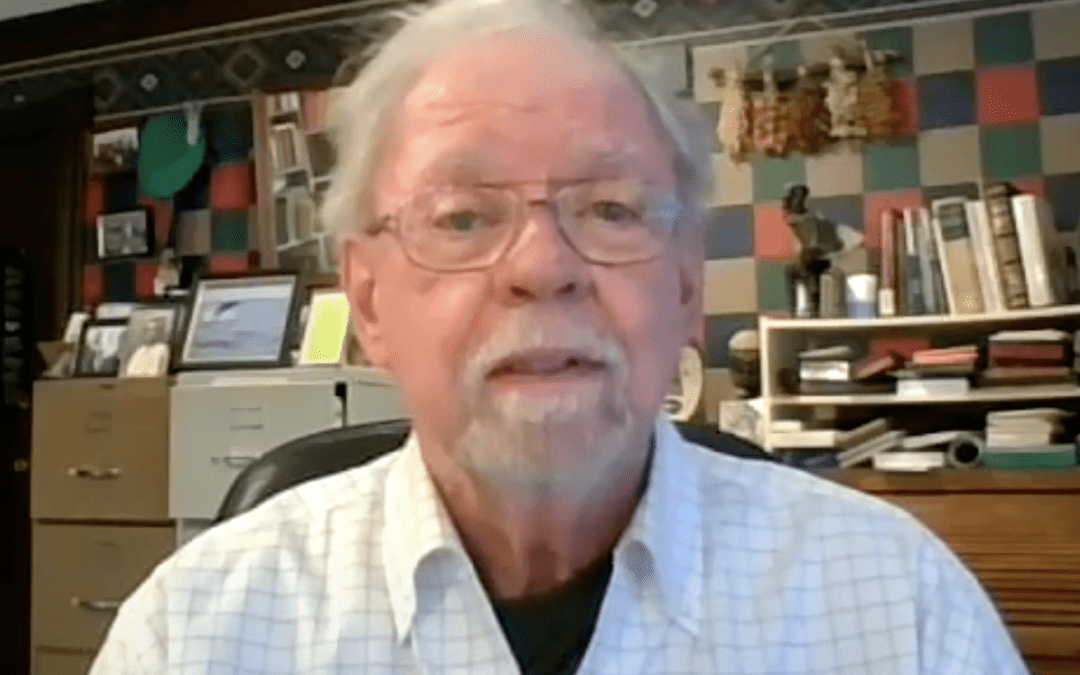 Dennis Patrick Slattery, Ph.D., is Distinguished Emeritus Professor in Mythological Studies at Pacifica Graduate Institute in Carpinteria, California. He has taught there for the last 26 of his 52 years in the classroom. He offers riting retreats and workshops in the United States and Europe on exploring one's personal myth through the works of Joseph Campbell and C.G. Jung's Red Book.
Podcast: Play in new window | Download
Subscribe: JioSaavn | TuneIn | Anghami | RSS
Dennis Slattery  00:07
then the question came up, can I trust laws can laws mentor us, when we experienced a loss of a friendship of a person of a, of a part of our life that we realize, you know, that's gone. I thought I could hang on to it, I thought it was going to be permanent. And I see that it's dissolved, or it's in the process of dissolving, trusting in a loss can be seen as creating a vacuum in us. But it also can be understood as giving us an opening that we never had before.
Clay Boykin  00:54
Hello, my name is Clay Boykin, and I'm in search of the new compassionate mail. Just a short while ago, I had the opportunity, the wonderful opportunity to have another conversation with our friend, Dennis Slattery. You know, these podcast episodes go deep. But I can tell you that the ones that Dennis and I have go so much deeper, and we never know where they're going to end up, but they always end up someplace good. So let's join that conversation. We're on here talking and in the times that we're able to sit over lunch, and I get home and Laurie says, What would you talk about? I don't know. But how to make it fit? Oh, I felt great. We just covered so many things. Well, what was your bladder?
Dennis Slattery  01:43
But we both know, and this is how I'd phrase it, both of us know that erros was present. Because the relationship between us and then the topics that we move through, deepen. And that for me is when arrows is present in what is present in the classroom. The classes are terrific, they're animated, people are thinking through things not to agree with each other, but to see what their own myth is.
Clay Boykin  02:16
Okay. All right. Tell Tell me more about arrows. What what?
Dennis Slattery  02:22
So one, one of my favorite books of young is the transcripts from a dream analysis seminars, 1928 to 1930 and youngest with either two or three, I think it's to other analysts. And they're taking dreams of maybe five, six sentences. That's it. And then they're working, and youngest listening to translations and he steps in and agrees and then he steps back every August. So one drain, about page 99. In this volume that is just scintillating reading. They're working on a man's screen, who is in a questionable in his dream and his questionable relationship with his daughter. And one of the analysts says, well, he's in an incestuous erotic situation with his daughter and young kind of slams his fist down and he says, No, he's in a deep relationship with his daughter because Aeros is about relationships. Now it can get perverted into pornography, lust, greed, but he says arrows is the presence, that energy presence of relationships that bind people together. And the dream was the unconscious narrative. Not about this man having a set said the the analyst wanted to liberalize it into a sexual relationship and, and Jung essentially said, No, it's symbolic of a relationship that's deep that this man has with his his daughter and boy, when I read that play, I thought that that is so helpful to understand though in our culture, the anything erotic is right away kind of Freudian sexually based, but for young, it was always the symbolic and that's why I've read one time play that He personally analyzed over 80,000 dreams in his professional life. You just was in the unconscious. Not all the time. But that was his. That was his default position.
Clay Boykin  05:15
That was the unconscious. That was his playground.
Dennis Slattery  05:19
That was his playground. So anyhow, that's that's what helped me understand arrows as relationship
Dennis Slattery  05:25
Okay, well now a couple of things but first of all, what I hear you, for me it translates to intimacy. Absolutely. The intimacy is to me is almost synonymous with arrows. Okay, and I in intimacy and not not in a sexual sound, they could be in a sexual sense, but intimacy in terms of you and I have an intimate relationship. Yes, powerful and deep and it's hard to hard. It's hard to hurt. Okay. So that Okay, so I'm on track there now. It was arrows, a mythological person.
Dennis Slattery  06:10
Yes. Yes. And the famous the most famous that I know. And a scholars who know more than Miss stories could add another but it's in the arrows and psyche myth. That arrows reveals himself. His mother is Aphrodite. If my memories serving me and Aeros comes to psyche at night and psyche sisters are very envious, that Aeros chooses psyche and not them to visit at night. So they conjure and psyche trust now, I'm thinking of our theme resume here, right? So psyche trust them and they when Aeros comes he comes in darkness. And there is no light allowed. So the sister say tonight when he comes and he's sleeping, light a candle and take a look because he's a grotesque monstrous figure. Of course arrows is this handsome, beautiful. Man. Oh, God. And so she does. And when arrows, fields the light of think of it's a lantern with oh, it's an oil lamp. I'm just trying to grab some of these pieces. He awakens immediately and she startled and two or three drops of that hot oil, land on it. Oh, that's what wakes him up. That's what wakes him up. Because she startled at his beauty. And now she's trying to square the circle of her sisters telling her he's a monster. And she says, I've never seen anything so beautiful in my life. Well, when those drops of oil land on his skin, it startles him and he shoots out the window. And then she is given tasks to perform by effort diety his mother in order to reclaim him. And all of these tasks that psyche is given in a kind of individuation process where she has to suffer the blisters of things that she says I can't I can't do this. But different animals, different figures come and assist her and so she's able to accomplish them. So the story of arrows and psyche is one of the richest in Greek mythology and I'm sorry I'm not pulling up more details it's been a while so
Clay Boykin  09:15
that's really good that that gives that gives me a bread trail to follow
Dennis Slattery  09:23
always fascinated to play with those two or three drops of hot oil because they she holds the lamp and sees him she becomes so fascinated with his beauty that the that the lantern the lamp just turns enough to spill the oil that awakens him and he doesn't even flinch but he shoots out the window. And then her task is to reclaim Errol's. Yeah, it's a beautiful story arrows and psyche and Eric noise It has written magnificently on that myth, if you're interested, he's just, he's one of the best union analysts. I think that followed you home. Oh, work with young, and then follow us thinking
Clay Boykin  10:16
and myth, the myth of arrows in psyche.
Dennis Slattery  10:20
And I think it says something to us about our dream life in ways that I can't comprehend right now that there's something about when we enter that dark space of the unconscious. Do we trust? What we've been told about the unconscious? Or do we try to have a direct human experience with the unconscious? So it's so ironic that the sisters who, who tell her this falsehood begins her process of individuation. It's like a via negativa.
Clay Boykin  11:12
Would it be? I guess what just came up to me, is this going into the unconscious? There's an intellectual pursuit of the unconscious, which I don't think will get me too far. But there's an intimacy if I can have an intimate relationship develop an intimate relationship with my unconscious? Yes, there's then the that opens. That opens a portal.
Dennis Slattery  11:47
Yes, exactly. Right. So psyche seems to need arrows to begin that intimate contact with herself, but also with the larger world, because when she sets out on these tasks, like Hercules sets out on his tasks, she sees I am ill equipped to do this by myself. So then it puts her into relationships with others with ants and other figures that come in to help her separate wheat from chaff, something she can't do. So she's on the erotic road as she seeks arrows. I love it. I mean, they just are the brilliance of the Greek myth. If it's the process, the process itself is what you're seeking. Aha, if that, in that beautiful, poetic way that myths, speak to us.
Clay Boykin  12:56
I'm looking up something here. Yesterday, I was surprised. Well, first of all, is my birthday.
Dennis Slattery  13:07
Yes. Happy birthday.
Dennis Slattery  13:09
Thank you, as I mentioned to you, yes. Thank you. And my wife, Laurie and two friends. They took me away at 11am. And they said, Yeah, just be ready to go at 11. Okay. And they took me off. And we went to the ATB center up in cedar park to see circus Olay. Oh my gosh. And you know what the which one it was? It was ovo. Okay, don't know it. It's about bugs. Oh, it's about bugs. And when you said she connected with the ants, the image of ovo the image because there was this huge egg. Oh age. And throughout the whole performance. In the background. There's some ant carrying an egg. You know, and it's this interconnection, of all the all the bugs together and all the acrobats. Oh, my gosh. And that's what came to mind. Yes. Oh, my
Dennis Slattery  14:20
God, you got bugs on the mind?
Clay Boykin  14:22
I do. I do. I did. It was a great performance.
Dennis Slattery  14:27
Oh, that's we've seen three over our lifetime. And each one just left us breathless. Yes, it's just that they have a slice on fantasy that no one else can touch. Yeah, that's our experience has been.
Clay Boykin  14:47
Yes. I think the first one I saw was in 1998. And I think they've they're, I think they came out in like 93 or 98. For. Yes, yeah, that's right out of out of Montreal is where they're where they're based out of.
Dennis Slattery  15:06
I think that's right. Yeah. Yeah. Well, okay, Antonio, one in Las Vegas, and I can't remember the others. But anyhow, you know, musing on trust after you and I had lunch, and I can pull my hunger writing out two or three pages, and then I've even added to it. But I've suffered a loss recently. And I don't want to go into that. But I, what happened with me is that I, I asked myself, What does trust have to do with loss? And then the question came up, can I trust, loss can loss mentor us, when we experienced a loss of a friendship of a person of a, of a part of our life that we realize, you know, that's gone, I thought I could hang on to it, I thought it was going to be permanent. And I see that it's dissolved, or it's in the process of dissolving. Can I learn to trust, the uncertainty, that loss opens in us? So I just was, you know, just kind of thinking through that. And I thought I'd bring it up with you to see how trust trusting in a loss can be seen as creating a vacuum in us. But it also can be understood as giving us an opening? Yeah, that we never had before. Right? So I, you know, I just was, I was just musing. And, to your point earlier, I wrote to myself, it's just not enough to simply trust in oneself. We have to have that trust in others, who help us. Not only identify ourselves, but I think help us define ourselves. But without trust as a bedrock of, you know, who you're going to tell your story to, and who you might not want to tell your story. True. story, too, is based on Do I trust this person. So yo, ne. And I came to this notion that trust promotes a common sense, to things. Trust gives us a common ground.
Clay Boykin  18:07
You know, as you're saying that what comes to mind is the work that I've done on the topic of vulnerability, perfect trust and vulnerability or you are so joined. And, yes, you know, Brene Brown to stand in one's truth with an open heart to heart it is the that end of the spectrum of vulnerability, and I. So if that's wholehearted, I say, when I use the term brokenhearted is when I'm closed. You know, when I'm not going to let you in? And maybe, you know, out of fear because I don't trust you. Yes. And another side of that is, I'm not going to let you in because I trust myself
Dennis Slattery  19:04
to not only maybe,
Clay Boykin  19:06
yeah, but I trust myself to know that I should not let you in there. Exactly. And that spectrum between being closed hearted and wholehearted are brokenhearted and a wholehearted is yes. It's all wound, which is wound around which I think it's it's two it's two pieces of a piece of rope. Yes, and vulnerability, wind around each other. Yes.
Dennis Slattery  19:35
And, you know, on a large global scale right now, I think that Putin carries the archetype of the of the of the untrusting. Yeah, nobody can be trusted. I alone. Kind of have the answer. And just from a mythic and psychological level, how that is enclosing him in a cocoon of his own making, and narrowing and suffocating. And how infernally painful. It must be for any human being, to feel that no one is trustworthy. And so if they're forced back on their own solipsism, and it just spins around inside that cocoon, with no arrows. In fact, arrows, I think, in that situation can be transformed into a violent energy that just explodes out with no boundaries. So this is this is the flip side of arrows. Where no relationships kind of eventuate in a response, that's one of violence.
Clay Boykin  21:09
So arrows is an energy that's going to come out one way or the other.
Dennis Slattery  21:13
Yes, absolutely. It's one of those primal centers in us that can split and go in either direction, either towards a benevolent, compassionate, your work and, and mine on a smaller scale. So trust is so connected to the ability to be compassionate. Without trust, I don't think one has the capability of being compassionate towards others,
Clay Boykin  21:49
and is not necessarily trusting the other that I would be compassionate towards. I mean, that I don't have to trust the other person to be compassionate for him. Okay, that's, that's a hard thing for me to, to grasp. But it's, it's easy to trust somebody and to have compassion for somebody that you're close, that you that you're experiencing arrows with, yes, but have compassion for someone who is causing harm. And to see that below that action that's going on, at a deeper level. There's no There's, there's a human being that's in pain. That's right. There's a suffering that's happening at a deep, deeper level, that's manifesting itself in damage to other people.
Dennis Slattery  22:46
That's right. And so Oh, no, please.
Clay Boykin  22:50
Yeah. So that's, that's, that's my my point is, is if I can reach in, to have compassion for that it doesn't condone what the person is doing outwardly. No. And that's been a hard thing for me to really wrap my arms around intellectually, I can have compassion for the person. But in my heart of hearts, now I'm just as judgmental and damning as the next person might be.
Dennis Slattery  23:17
That's, and that's where self compassion, I think really plays an important part. In Yeah, that's part of who I am. And that's part of some of the work that I still have to do within myself. Yeah, but I like I like your point of view there. Because it suggests to me that being compassionate towards one that you don't trust could bring that person to trust you. In which case, that might be the first step in breaking out of this negative energy field that they occupy isolated and alone. You know, like Dante lost in the dark wood at the beginning of the poem. Yeah. Well,
Clay Boykin  24:07
and that rings true with my model of vulnerability if I can continue to be wholehearted because it takes two people to be vulnerable. You know, most Yes. You know, you and I are both coming to this conversation wholehearted?
Dennis Slattery  24:27
Yes. You know,
Clay Boykin  24:28
what if I went into a conversation and the other person has an angry heart, you know, or a wounded heart?
Dennis Slattery  24:37
Yes.
Clay Boykin  24:39
And they're casting out things that would turn me off, you know, that would push me away. But if I can stand there, and remain wholehearted eventually, there's only one place that that other person can end up and that's wholehearted to, to get below that surface. To get down to the, to the heart of the matter. Yes.
Dennis Slattery  25:02
The other option could be just a total rejection of you, because you're making them feel too vulnerable. And that that heat shield that they have up is going to think it could thicken not is not determined to thicken. It's proof that they don't want to see. They don't want to see so that it's part of like Campbell's idea of refusing the call. One's called. But no, they're saying not now. I'm too busy. Call me back. But also because you're making me feel vulnerable and that is really scary.
Clay Boykin  25:47
piercing through that, that sir? Yeah. Young. Let me answer your question. Go ahead, please.
Dennis Slattery  25:54
Okay, well, you go, okay. Okay.
Dennis Slattery  25:58
You wrote this article recently? Yes. What was the motivation? I mean, motivation, what was the inspiration behind writing the article? I mean, first, talk a little bit about what the article was about, I know, trust, but take it a little bit deeper than that.
Dennis Slattery  26:15
You know, so I, I, I have a copy of from the newspaper here. I think of feeling one morning, here in my study, with a candle lit into my little gooseneck, lamp lit and thinking how
Dennis Slattery  26:39
part of the divisiveness in our country, but I think also on a global psychic level is being fed daily by distrusting one another. And I thought, well, what, what is this thing of trust? So I started to think about examples and how there are boards of trustees. How on our money, it says In God We Trust, right. And getting ready for today, I thought of that show. I can't remember how long have goes on. But it was tremendously popular and successful. And it was entitled putting trust in the show would have couples. And they would ask the wife questions about the husband and the husband of the wife. And the nation was mesmerised nothing nation, but a lot of audience. Present. were mesmerized by listening to this to this couple that been married two years, 25 years. And what is it that you don't trust about for? Or? I mean, it was, wow, it, it could have been light. But it often got heavy. And how one or the other couple in the couple was surprised to learn something about trust, or its absence or its uncertainty, its wobbliness in the other. So I just wanted to add that because I thought about it. Maybe an hour before we got on. On this conversation.
Clay Boykin  28:38
I bet you there were some divorce attorneys watching that real close.
Dennis Slattery  28:42
recording it. So I say in the article, I think of trust as the heartbeat when we were speaking about the heart and I'm so glad that we are it's the heartbeat of any authentic relationship. So a fundamental question we might ask, I suggest in the article is not so much. Is this person loyal? But a deeper question. Is this person trustworthy? Is this person worthy of my trust? And if I'm open, reciprocally, is that true? And I push it a little bit to muse on the relationship of trust, to truth. I say their intimate first cousins. Truth suffers a hit. I wrote When trust is attacked, or dismantled. So there's a fragile but still strong relationship between trust and truth. And in our era of distrust of misinformation of falsities, it becomes questionable. I have a pre, I have a buddy from high school, who I stay in touch with. There's a group of us from our graduating class of 1963. At St. Joseph's Marinus High School in Cleveland, we all graduated in 63. And there's a website and we share stories and so forth. There's about 55 of us that are involved out of a class of 313. Not all of the others have passed, but many have. And Bill and I get on the phone occasionally. And I talked to him a few weeks ago, and, and I was bringing up some national events. And he said, Dennis, I don't have anything to say, because I've, I've sworn off my newspaper, and I don't watch the news. And I say you don't, you're not in tune with what he said, No. And I said, Okay, Bill, we've known each other for 150 years, what's going on? He says, I don't trust any, I don't trust anything of what I was hearing. And I decided instead of the roiling around in my head about, Do I trust that comment, or is that another fabrication, and he said, I just decided to pull the plug. And Bill's not alone. I mean, how many either dig in to what they have come to believe that they trust, and then everything else gets deleted. There are those of us who want to stay open, and listen, but try to be discerning on what we're hearing. And that's, you know, that's fairly impressive group of people as well. But trust itself is on the chopping block. And we're seeing it now. Go to a global level, with the invasion of Ukraine and the response, the heroic response of the Ukrainians, and that they trust Solinsky. And so trust is just clay, it's just so all pervasive right now. In the culture. I suggest in the article, that without trust, a host of demons can invade the gap that's open by trust absence. And I won't read all of them, but I'm just going to read four or five of them. A suspicion of others. When trust disappears, I'm suspicious of like my friend Bill, he says, I'm suspicious of everything I hear. So I'm going to block it all out. A lust for power, that moves into the vacuum, that trusts absence, has created an upstream except obsession with safety and security, which then spills into what I am going to allow my child to hear in the classroom, and what is off limits for him or her to hear. But it's fear based from my perspective. Another one is a fierce tribalism. We get into these clusters, and then we cling out of the fear that is bred by uncertainty.
Dennis Slattery  33:49
And for you and me today. Can I learn to trust uncertainty? I didn't think about that until after our lunch and I was musing at home. And in saying that, I want to feel into his uncertainty, a mentor, that I have not really allowed in to mentor me, but maybe I should now and I'll read one more, or two more. One is intolerance. When trust is pushed to lowercase intolerance goes to capitalize uppercase, I. Extremism, rigid control, and then, and these aren't in order order of extremity. But the last one I mentioned is self doubt. When I'm when I'm surrounded by a field of mistrust and distrust. It's not a quantum leap psychologically even mythically to We begin to self distrust. You know, can I even trust my decision here and voting in the primaries? Right? So it, it's, it's a toxicity like an invisible, toxic gas. And we're all breathing it. And I just wanted to bring it into consciousness through these 620 words of an op ed piece.
Clay Boykin  35:28
It was a beautiful Op Ed,
Dennis Slattery  35:30
thank you so much.
Clay Boykin  35:32
I want to go back to uncertainty. Yes. Good. That just rings so loudly in your muse about trusting uncertainty? Yes, I'd like to peel the onion on that. Where does that? How does that play out? Yeah. One word that comes to me is faith.
Dennis Slattery  35:59
Faith? Yeah, absolutely. In fact, if I can share this, because you and I are on the same wavelength here. I was thinking and I mentioned in the article, along with faith, hope and love, I want to say there's a fourth tip that prescribes to quaternity. And that is trust. So I started to think about faith, hope and love. And I push that a little bit, and I want to share it with you and listeners in faith, I trust in what can't be seen, measured. But since its presence, on a super sensible, level, hope, hope allows me to trust in the future, to see possibilities I may contribute to in their unfolding. And then love to trust in the awareness of how all need to feel loved, acknowledged, respected, and maybe most important, Lee clay witnessed. People have this deep desire. And I share it to be witnessed by others. And I think that's a form of love.
Clay Boykin  37:31
For you really struck something there. In Me, in our men's circle, there's an underlying, there's an underlying theme. And I think I plucked it out because it was something that was so important to me at the time, early on this pleading this inner pleading of I just want to be heard, I just want to be heard. Yeah. You know, I don't need anybody to fix me or make suggestions or tell me their war story. I just want to be heard. And that's the other desperate cry. And that's, yeah, that's what I read. That's how I hear what you're saying.
Dennis Slattery  38:12
And, and if I make it beautiful, what you just said, that's the play of arrows. I think that's the plea of arrows saying I want to be in relationship to, and I can't, unless I feel heartfelt that I'm being heard, that I'm being witnessed. So I'm liking what's happening here with arrows who kind of slipped into this conversation early on and is kind of hanging onto us, which is beautiful. That arrows is that impulse to be heard. And I think it's appropriate to go to the other side and to witness others, which is also an erotic move. And, you know, when, what something I'm reading recently Oh, the stories we live by Dan McAdams, some typing some notes on personal myth. He says what, what he discovered in his research, is that somebody somebody's sensing that they're deeply and intensely being listened to. is one of the greatest gifts that one human being can give to the other. Yes, yeah. I'm, I'm speaking and I'm listening. And as you and I work, we listen to each other. That's, I mean, that is a human gift that I think is special. grid on in several ways that we could we could push.
Clay Boykin  40:07
So true. I want to come back to Yeah. Faith? Yes. In creating my mandala over the years that's hanging behind me. Yeah, I love it. There's I take religious tradition. And the one common theme that Karen Armstrong calls out. The common theme amongst all the major religious traditions in the world is the golden rule. Which translates to compassion. Yes. And so I'm associating compassion with religious tradition, and mythology. And I've been able to blur the lines between religious tradition and mythology. They're, they're communicating a wisdom forward. That's right. And so in juxtaposition with religious tradition and compassion, with mythology, I associate the word faith. And the relationship then between faith and compassion is love.
Dennis Slattery  41:29
Yes. Now, how
Dennis Slattery  41:30
does that play into our conversation? I don't know. I was just an observation that popped in mind when we were talking about faith.
Dennis Slattery  41:37
Good. Yeah, is is is faith, simultaneous with trust? Move by the energies of compassion. And I'm raising my voice into a question at the end, because I'm not sure. I was just seeing if I said anything else on No, I don't know if this will help. But one, one insight that I was coming to off of the article, it's not in the article. That trust sets up less a contract between oneself and others, and more a compact, a common pact with oneself and others. It seems to me that having a contract with someone else you could be married to. But there's no compact. There was no there. Maybe it was there at the beginning and it faded. I can track.
Clay Boykin  42:58
I'm so pleased. Contractors head compact on heart.
Dennis Slattery  43:05
That's it. Do you anticipate that's? And that's great that you finish? Finish that sentence? Yeah. And it's a it's a it's a pack with the common place of both of us. And as I get older, the common the commonplace and the ordinary is far more interesting than the extra ordinary. Yeah. And I think that ordinariness of love is extravagant in a kind of paradoxical way.
Clay Boykin  43:44
I, I wouldn't think of love as ordinary. But well, you put it, there's very interesting.
Dennis Slattery  43:54
I'm resonating a little bit with them. I forget the name of I'm gonna forget her name. She lives in Wyoming. Montana, she wrote a book years ago called ordinarily sacred. Yeah, her name's not going to come up. The title is, when I read that, I thought, I mean, this is two decades ago or more, I thought, you know, maybe I should be paying more attention to the ordinary. And then that kind of dropped out of consciousness. But as I'm getting into further into elder hood, rather than getting older. The ordinary has a has an extravagant quality about and that's how I'm using that sense of love. Love is maybe an appreciation of the ordinary, I mean, one facet because complexity is right huge. But you know, I just find myself Watching people interacting with people and people doing small gestures of courtesy, helping one another out in ordinary ways. But it's it's it's it's love moving in the world. And in a compassionate, compassion, compassionate way play. Wow. I think it's how love, it's one of loves, manifestations in the world that it moves by means of the ordinary or moves through the ordinary, or makes the ordinary sacred of Linda. So almost had her last talk on it. But the title is, is it's a small book, and it was just a profound meditation. And the name of the book again is ordinarily sacred, ordinarily sacred. Yeah, it's just in somewhere. It's buried in these text books. But nothing I think that was playing in the background for me. Little on I said, what I did about the ordinariness of love. And the best movie, in my limited repertoire is that magnificent film with Roy Roy double, entitled tender mercies. And it's also the one who made it is famous and it's it's a in the essay on that film is in the is in one of my recent books, it might be in the I think it's in the, the way of myth. But it's the it's the highlighting of a alcoholic country western singer who begins to sober up, finds himself in a motel room fighting over a bottle of bourbon with another alcoholic and then settling in and asking, can I earn my room and board and I'll fix the doors and so forth. This is in Waxahachie, Texas, incidentally, where it was filmed flat. And the woman is raising her son, who was about nine, her husband had been killed in Vietnam. And she's got a couple of gas pumps out front, she sells a few things in the store. And this is where his redemptive journey towards sobriety which brings up his create activity again and he begins writing songs and then he starts playing just in a little way with this band that just idolizes him and comes to visit him and they're Volkswagen van and said, you know, you're one of our you're one of our mentors in song and please come and sing with us. He said, No, he has he was ready. But it's ordinary that saves him
Clay Boykin  48:12
and it's so it's the right turn of self trust. Absolutely within himself, you know, Dennis this conversation could go on almost as long as our lunches go on. But I want to bring this one to close for the bike. Absolutely. Share with you. Just one one last thought. Yeah. I'm now I'm now it's resonating with me why? Why the article that you wrote on trust, and why the whole topic of trust touched me so incredibly, deeply. Oh, thank you. And I'm in the reason it did. And I didn't realize it until I pull up my mandola my computer here while we were talking to discuss this or that, and I'm looking around my mandola, which began years and years and years ago, is evolved throughout time. The word trust is nowhere on that mandala. And that really gives me pause. And I'd like to come back and let's continue our conversation next time.
Dennis Slattery  49:33
Absolutely. Clay and thank you this was this is a it's always a wonderful, stimulating. I'm surprised at some of the things that I said, which I had not planned, but we got what we do successfully is we we establish a field of relationships, and then we move around in it and that's what's so invigorating your center for safe
Clay Boykin  50:03
it's so true in this whole search for the new compassionate male. And I've never expressed it this way but it is it's creating a field. Yes it is and and that's what I'm sensing it's there's a field of trust and vulnerability when we go into these conversations on these on these episodes so thanks for joining me on in search the new compassionate male. Check out the latest episode of In Search of the new compassionate male on your favorite podcast Station.
In his 30th published volume, The Way of Myth: Stories' Subtle Wisdom, Dennis Patrick Slattery reaches back in "Part I: Mining the Myths Anew," to some earlier essays on classic films and works of literature. He also includes extended meditations on the thought of mythologist Joseph Campbell; on creativity's hungers; on beliefs as mythic constructs; and on the joys of painting. Many of the essays explore the act of reading and the importance of stories as they relate to one's personal myth.