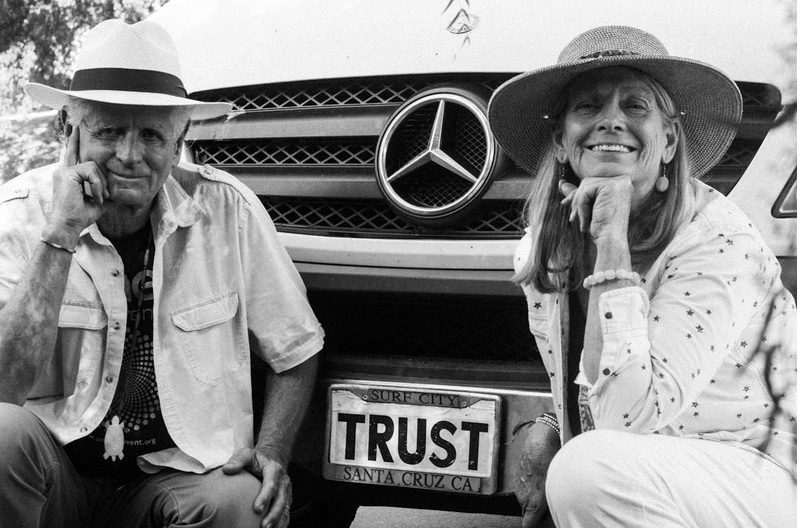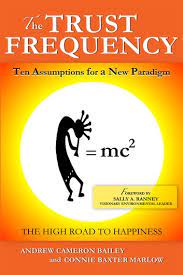 Connie Baxter Marlow & Andrew Cameron Bailey are original thinkers, writers, photographers, filmmakers, futurists, climate "solutionaries" and inspirational public speakers. Their explorations into the essence of Reality have led to a unique articulation of the conscious, loving, abundant nature of the Universe. In their book The Trust Frequency: Ten Assumptions for a New Paradigm. Connie and Andrew present a system of cosmological axioms, informed by indigenous cosmology, quantum science and Eastern and Western mysticism, which resolve key paradoxes that have kept humanity from walking in balance with Universal Law and with an open heart. They offer straightforward, practical tools for accessing The Trust Frequency, an alternative reality where the soul's destiny awaits, the laws are expanded, and there is more balance, beauty, joy and abundance than we can fathom.
They apply The Trust Frequency paradigm to the evolutionary aspect of relationships in their online course The Dance of Souls: The Relationship (R)Evolution

Their documentary film IN SEARCH OF THE FUTURE: What do the Wise Ones Know? is a companion piece to The Trust Frequency book and features visionary indigenous elders, Western scientists and futurists.
They have presented their work at IONS, SAND, COSM, ISSSEEM, Unity Village Chapel, New Dimensions Radio, Eagle Quetzal Condor Global Convergence, Consciousness of Immortality Conference, The Thoreau Society, Parliament of the World's Religions, World Unity Week 2020/2021 and numerous other venues.
Podcast: Play in new window | Download
Subscribe: JioSaavn | TuneIn | Anghami | RSS
Transcript:
Clay  00:07
Welcome to In Search of the new compassionate male. My name is Clay Boykin, I support this podcast through my coaching practice. I help people visualize and harmonize find direction and meaning or simply get unstuck. Contact me at Clay Boykin calm for a free consultation. Now here's the latest episode of In Search of the new compassionate male.
Dennis Tardan  00:31
Hello world it's me Dennis and here we are again on the search out the new compassionate male. I'm the co host of this particular podcast I'm here with the founder and host clay Boykin Hello clay.
Clay  00:45
Hi Dennis, we have Connie Baxter Marlow and Andrew Cameron Bailey for round two. Now, last episode 106. We talked about trust frequency to trust me. And today, one thing I learned was that Andrew has done quite a bit of work, men's work in years past. And then there's quite a bit of work that Connie has done related to men's work specifically. And since we're here, raising compassion consciousness for men. I'm really excited about our conversation. So I want to start off and let's get to it, Andrew. Yeah, once upon a time you started doing men's work, take it back as far as you want, I'd love to hear about it.
Clay  01:34
Let's go back to Oh, the 1990. I actually just started doing my personal men's work by joining the women's movement in 1973. I think it was in Manhattan, really. And I didn't know that I didn't know there was going to be relevant. I was one of the few males admitted into sort of fairly inner circles in in the downtown Manhattan radical feminist movement, because my girlfriend was a leader in that field. So as the decades went on, so that really taught me a lot taught me a lot about dealing with a woman which is different from the subject of the compassionate male, but I think it's relevant. Very well, when the men's movement his John Lee is melodrama. So may His Robert Bly. Here are these extraordinary men coming out with these books and then leading these workshops. And I was busy raising five kids at the time throughout the 80s. And I was really in the midst in the year 1990. And there was a call I was living in the Hamptons, in quad or East quad in the Hamptons, which is close to Southampton. And there was a call for a meeting in Sag Harbor. Now I don't know if you know these towns that talk Sag Harbor Absolutely. This little towns in the world, really an American particular. And there was a meeting and I sit down, I'm gonna I'm gonna go check this out. This is this is interesting, not men, the men are coming up the men are emerging. Let's see what we can do here. So I attended this meeting. And are you aware of the Sterling group?
Clay  03:21
I'm not.
Clay  03:24
Thank God for that. Because this meeting was called by a group of men who call themselves the Sterling group. And there's a person named Sterling. I never heard of these people either. watches this meeting, about 40 men showed up and I knew most of them. I was part of this community out there, right? I was in the construction business. I was in that consciousness realm. I was in creative arts, I had a band and stuff like that. So I knew I knew at least half if not two thirds of these men. And it was a hard sell. There was I called them five mustaches. There were a row of these five mustaches on this page. They all they look like they came out of a queen musically. And they sell sell, sell, sell, sell. So this is my this is my introduction to the men's movement. So very weird way. And finally, it's like, okay, who's signing up for the weekend? $500 the weekend? And well, this
Dennis Tardan  04:28
is $500. When?
Dennis Tardan  04:29
$500 in 1994 is a is a is about $2,500 today.
Clay  04:44
So purchasing power is a guy raising five kids working really hard. didn't have that kind of money, but also I'm very resistant to hard sell. So the question there's a silence in the room and one guy puts up the sound. He said I'm going really good friend of mine. Actually the lead guitarist in my band, puts his hand up and said, I'm going, and then it's like, never really tried to get. I'm realizing I'm at a sales pitch. So, okay, nobody answered. So I put my hand up and I said, you know, I'm sorry, but I won't be going, a I don't have the money fee. This is not quite the angle I'm interested in. But as there are 40, or 50 men in this room, I'd like you guys around here to know that if you're interested in forming a men's group, I'm up for that. And one of their mustaches said, I don't like what you're doing. Since Okay, I'm leaving. I'm out of here in a second I wanting to say. And I've said, you know, my number. Give me a call. If this is interesting to you, I'd like to form start something that doesn't cost money is not part of a movement. It's simply a group of men getting together to see where it takes us. And the guys yelling at me. And I said, okay, good night, thank you. And I left and I drove my 40 miles home, and got home, and my phone started ringing and didn't stop ringing. So that's how it started. So we had an X meeting with about six or seven men. So this is a this question of our man's movement, a men's meeting a men's group? What the hell does that mean? What could it mean? It could mean a whole lot of different things. So we had a meeting with about six or seven men who called me and we within a week or 10 days, we sitting together in a room and going like, Okay, this is interesting. Let's get some parameters here. Question number one, how many men and we tossed around we agreed upon 10. Let's have a group of 10 should be handleable was 10. Too much smaller, it won't be that relevant, too much bigger, kind of hard to handle. That 10 Min. Those 10 slots were filled within another three or four days of that meeting. For sorry, that my phone didn't stop ringing. And I'm like, sorry, we're full. What do you mean, you fall? Sorry. So guess what this poor guy ends up having to do? Start another one. So on every Monday night, we had a men's meeting of the one group and the other group, because another 10 men immediately came into focus. And I was sort of the commonplace because it was my phone. It was so so and then the question is, okay, now what are we going to do with these meetings, and we came up with, okay, we're going to have to hours, we're going to have there for a very short amount of time each, someone's going to have to be a timekeeper. Let's get really disciplined and careful with us. And let's have some real rules. No chitchat, Make it serious. No. Crosstalk talking stick while you're on your own? And what are we gonna talk about? Whatever's uppermost in your mind? Okay, so that I like that. It could be the fight, I just have as my wife, or it could be a painting that I'm struggling with, or it could be trouble at work. Or it could be, damn, I saw this girl on the street, you know, wow, whatever it turned out to be right. So we did that all of the 1990s.
Clay  08:21
When I let me ask you something. Why did they not go to that first group that was courting you to join for 500 bucks for the weekend? Why did they not do that? And why what attracted him to what you are offering?
Clay  08:37
You know, we never even discussed that. Really, the only man I know who joined that group is my son. That group meaning the first group, we're just starting group, my son, decades later, my son at that time was probably seven years old. Eight years old. He later was trying to get me to join this exciting thing he had discovered and I said, Tell me about it. I said, it's not called Sterling. And he said, Yes, it is. I'm like, okay, so it's a big success. It's a big deal. It's millions of dollars. And it's very pushy. And if we three men, were doing this together, we'd be getting really much with each other. We'd be pushing it shoving each other physically around, just show how masculine and male we are. That's not what we did.
Clay  09:27
Let me ask you this. Because this is what I've run into. That there's a whole number of men's groups out there. And for, for guys to be in a men's group. First of all, I think it's great. They're different levels of their consciousness. So different forms of men's group work for different guys. So but what I have learned is that some of those men's groups are trying to break into the guy to get him into his heart. But there's a whole population of men out there who already in their heart and they need to learn how to connect with another man, I need a safe place to go. Go to. And I'm just curious was that? Does that kind of relate to your experience on what you were doing?
Clay  10:16
Um, yes. Without getting too specific. Okay.
Clay  10:19
Okay.
Clay  10:20
Let me ask you a clear, quick question. Do you ever go to the Mentone? Meeting?
Clay  10:25
The mankind project? No, the Mentone in Alabama? No.
Andrew  10:29
Okay. I don't know if it's still going. It was an annual meeting of the I only went once. It was Robert Bly. Okay. My team, tell me him. John Lee, it was spectacular about 130 men, and it was great. So somehow, the group of men who came together to that meeting was sort of compatible with what we were working on. I have to say, that was not the most satisfying man's experience I've ever had. In fact, within a few years, I was just thinking like, oh, man, you know, I don't want to listen to these guys talking about how many times they screwed their wife last night, or how many times they've had an affair, how many times they've been unfaithful this year? I don't care about how many times they dropped off. I really don't care. And that kind of stuff was discussed, to move to, you know, no, thank you. And secondly, I really wanted it to be spiritual and challenging. And the best thing we did together was go on trips, go on camping trips, and we'd go camping, I had some land in upstate New York and Woodstock. And we go camp on my land, for example, did a bunch of different things, and would sit there. And one of the interesting things I had, by that time, two of the men in the group were really good musicians. And we ended up forming a band, we had this band all through the 1990s, as well as this men's group. And so they were sort of integrated. We're on the land, and I said something and I can't remember what it was. But one of the men, communism, in my band, jumped up across this clearing and came at me almost got physical. I see got completely outrageously pissed off physical with me. For no known I honestly, I don't know, I offended these guys. So there are a couple of them there. That bisexual ones, strangely enough, I somehow managed to offend them, but not because of anything to do with sexuality. It was more to do with the things in my life that have been exciting. And I that I want to talk about, sometimes have to do with people whose name you would know. And it was assumed that I was making the shit out that I was lying that I was puffing myself up. And sorry, these are actually people I've worked with, and they're my friends. You know, so it was not that good. And eventually what happened, there was a, there was a coup within this group, about seven or eight or nine years in, and one of the members of my band broke up the band and the men's group in the same evening. Kicked out, they kicked out four of us. The guy who poured from, you know, Ford for the sweats. This muscular, tattooed, amazing, the man of our men, greatest poets, like the poet laureate of New York, kicked him out. Another guy who is a very significant therapist. I mean, the four of us, they said, We're terminating the group, goodbye. And then a week later, it turned out that the other five went to dropped out. So there were another five, those five had some waiting guys. And they reformed the group and without a hiccup. They went, and my phone started ringing again. And it was like, wait a minute, this was supposed to be for life. The poet said, this was meant to be our insurance policy for the rest of our lives was meant to be our support system. So we have this group of men we could totally trust for life. Noblesville, and what's going on? I said, Can you come over to my place? I've got my little pedal. We're recording studio. Let's sit there. So the four of us sat down and we said guess what, guys, we other rejects. We're out. And I'm personally really relieved. Really glad. Okay, so about that wasn't just in other words, it wasn't personal wasn't right. Yeah, it was something about the dynamic nature of the group. So yeah.
Clay  14:49
What I'm going to guess here you wanted to go deeper, spiritually or metaphysically. and they were afraid to go that deep to really go into their heart. Is that what was going on?
Andrew  15:10
I think they would. In other words, they were serving a group now to beat me for just got kicked out. A group would totally disagree with you. They there was sort of a status thing or something like that, or whatever it was, I probably by 95 or so 96. I was going like, Okay, I've just to myself, I never really brought it, I don't think I am, I did my woman's work back in the 70s. I did my men's work in the 90s. Now, I want to do the men's and women's work, I would like to see a group, let's have 12 people, six women, six men, knock couples. And to really, really get deep, never did it haven't done it yet, not saying it won't happen. And I'll say one more thing about the second group, which was a lot more peaceful and less contentious. And I'm actually closer to more people in that second group than I am in the first group. That group also continues to this day. And when I met Connie, I said to the men, I said, you know, knew about my divorce and all that stuff. And I said, would you even consider having me bring this woman to one of our meetings, I think she has something to say to us. And I invited Connie to the meeting. It's the only time we did it. But man, that was the most wonderful men's group I meant meeting I've ever had, where we had cry when talking about that.
Connie  16:49
Well, do you guys have any thoughts you want to talk to Andrewabout not?
Dennis  16:52
Well, we want to talk with you about because you're here with three men who are really working to both to get to their hearts and to expand compassion. And so you can give us some perspective and give us some, some some of your thoughts please call me.
Connie  17:13
Well, I'd be happy to. Because I've been waiting for decades for this very moment.
Connie  17:24
Thank you for inviting me on you're seeking the compassionate new male, because I have an incredible resonance for the tender male heart. And I would say that perhaps I'm more balanced to my masculine, Anders more balanced to his feminine. He's way more intuitive than I may more in touch with his body. So this whole dichotomy of what meat suit wearing just just makes no sense to me what's going on right now that the women are going to lead us the men have all screwed it all up and the women get out of the way, then. I mean, that's a travesty.
Clay  18:09
It's a pendulum swing.
Connie  18:12
It's a travesty. And we're, you know, we're not doing pendulums anymore. We're at the fulcrum. Now we're going up into unit of consciousness into the open heart, how are we going to open the heart of the male, when we're telling him to get out of the way that he's just messed everything up? It makes no sense. Look at the men who've done incredible and continue to do incredible work in the Open Heart arena of compassion and kindness. And I mean, they're leaders. I'm sorry.
Dennis Tardan  18:44
But that is Connie. That's the that's the difference between binary thinking and being able to to hold two thoughts at the same time, we can all we can see the the extraordinary gifts that men have brought to the table, and it's same time to also see the limitations, we can bring them both to the table, we don't have to reject one in order to reject the other. We don't have to reject the men in order to accept the women. This is an all in.
Connie  19:14
Exactly, exactly. And I feel that we've been responding to a lower frequency on the planet. Everyone has the women as well as the men. So we've all been doing nasty stuff to each other. We've it's, as my son said, it's been a mutual wounding, because I feel the male heart is so tender, that it's been wounded by our childbearing practices, and by the women in its life. Okay, in their lives. Okay, so that's my thesis is that we just don't know the true male. We have the armored heart of the male that steps out. After a couple of years by two or three. He's learned that he's not supposed to cry. He's not supposed to play with dolls is not supposed to play house. You know, he's he's supposed to play with trucks and, and guns and all that, you know, it's it's crazy for me and so when I had a boy I had my third child was boy, I was thrilled to be having a boy and I did everything in my effort in my realm to raise a compassionate male, a true male. And so when he said at age seven mom my feelings tell me I don't belong in school. I because of the trust frequency, absolute walking in the trust frequency for me, I didn't have the word risk in my vocabulary. You can't when you have your son's life in your hands, and I said, Okay, honey, Obi Wan Kenobi says trust your feelings, Luke. I guess you don't have to go to school anymore.
Clay  21:00
And he was how old? Oh my gosh, yes.
Andrew  21:07
You are with the mother of a first grade dropout. Right here in Wichita, you hear about this first grade dropout. What he's doing right now at this moment? Oh,
Connie  21:15
Yeah. But let me say that see, I had been spending time with visionary native elders. So for for many years, and I saw through them that we each came with a gift. And that it's a loving universe. This is what our trust frequency book is all about to give people the tools to be able to walk in absolute trust. I knew that the universe was going to chase Johnny Marlowe around with a silver platter, with every experience he needed to become the gift he promised to bring to the world. So I didn't have the word word risk in my vocabulary. I couldn't with my son's life in my hands. But I set him free. I didn't pull him out of school because of my beliefs. I didn't didn't interfere with my children's Destiny pas in any way. We we swooped indicted and did extraordinary stuff, but I followed their lead. I didn't lead them because their soul knows what their souls destiny is. People will say How can you let a little boy like that make that kind of decision. I said, I don't live in there. It's not my destiny path. It's his. And so I set him free. And my husband just I was kind of the leader in the child rearing scene, and he didn't understand me anyway, from the time I had my spiritual awakening. And so we I set Johnny free, I let him go. And he didn't resonate to learning to read, he didn't resonate to any of the academic stuff. So I just let him go. And I know that we have an x ability to access information much faster than reading. Okay, so I didn't care if you learn how to read or not. And his father had been turned off to learning to read by his father, who had demanded that he learned to read, we are so neurotic about teaching our kids how to read. And if we understand the human spirit, that we actually have to do the opposite of what we're told to do. Or at least, that's my spirit. If anybody tried to tell me what to do, I make sure I do the opposite. So I set him free. And ultimately, because it's a loving universe, man showed up on our doorstep to teach Johnny how to read. So I said, Okay, universe. So he came and he was Johnny's tutor, Johnny's a voracious reader and amazing writer. And, and as Andrew pointed out, he's now a flourishing photographer. In Los Angeles. He's 36 years old.
Clay  23:56
And I've known him since he was 17. Man, and he's, he's my hero. He really has found out differently than his peers. His college buddies are in depression or drug addiction, and God knows what and he is not very interesting. What's the difference? There's a difference somehow
Connie  24:16
there's a difference because we have an educational system that does not honor the human heart and the human spirit. So I went to bat for the human heart and human spirit in Aspen, Colorado to change the educational system and bring the heart and bring native american thinking into our ponderings about, okay, how are we going to what sort of educational system are we going to have? That's going to take the human race to our actualizing our true potential as loving beings in balance with all of creation? So that's been my experience since the exact same time that Andrew speaking of this was 1994 My son his son, My son of the same age. And so Johnny was seven. What happened though? It was January of his first grade year, when the teacher called everybody together all the kids together. And she said, Well, this is Johnny Marlowe's last day in school. And a little girl raised her hand. And she said, But Johnny, how are you gonna get a job?
Clay  25:22
First grade,
Connie  25:24
first grade little girl, no less. She knew what she was in school for, didn't tell the teacher what the teacher wants to hear, or you're not going to survive. This is called survival. You know, get a job to support your family survive, get have food on the table at seven years old, this little girl, no less. So this is the arena of the trust frequency, to teach us to give us tools for walking and trust going into a higher frequency where the laws are expanded, it's a completely different ballgame. Because I will tell you, what happened for Johnny's life was magical. The people who showed up in Johnny's life, Johnny becoming he was just flown out to New York with a with a team of 30 people to do this shoot in New York City from Los Angeles. He's just turned 36, like last week. And so he's flourishing. He just bought his own home with his earnings as a photographer, oh, help from parents or anybody and has had the, he got the girl in Aspen, and stuff like that. And so when Johnny decided that he wanted to go to school, we swapped indicted the system, actually, somebody from an alternative school said, well, Johnny, anytime you want to come, come by the school, just feel free because his sister had transferred to that school. So Johnny had the freedom to go and be a part of a system without being a part of it. Right. And so he had, he was able to be socialized and stuff like that. And so when he decided he wanted to go to school, when the student is ready, the teacher will come. That's absolute, it's a loving universe. Okay. That's what the trust frequency book is all about. Johnny is the trust frequency poster child, because he said, I want to go to school. So a companion tutor showed up for him, and came and brought him up to speed academically, so he could go to school. And this, this guy was from outside of the paradigm as well. So I just want to say that when you tell the universe, what it's up for you, the universe must comply. It loves you. Okay, but you've got to do it with bold, committed action. And that's where this trust frequency set of assumptions about the nature of the universe helps us understand how loved we are, that it gives us everything we asked for, what are our requests, where we put our attention, what our assumptions are our seven A's of, of our consciousness. So in the end, mainly, that's bold, committed action.
Dennis Tardan  28:22
It is. I find that when I'm getting, getting to that trust place, to be able to trust to be able to step out that to be able to step out and trust. The are there little steps to doing that? Or is it just all or nothing? That's a great question.
Connie  28:45
Oh, guess what, Dennis? Oh, I mean, yeah,
Andrew  28:53
you can't do it in a half assed way I think gives the answer, right.
Connie  28:57
Yeah, doubt. You can't do it because it's by its frequency. Its vibration, is physics. There's no judgment. It's not.
Dennis Tardan  29:07
All I'm saying is this is that if I am tuning in, to a frequency on, let's say, an FM radio dial, remember those old dials where you earn it, and you would start to get and you and you begin to get some of the signal, and you get some of the signal. And then you get clearer and clearer on that.
Clay  29:30
So it is a it is a practice. It's, I'd say it's the rare human who's able to just grok this gray, get it in one microsecond and say, Oops, that was then this is now now I'm enlightened down here, right in the state of total trust. I doubt that. That happens very often. But it's about testing, testing these assumptions. For example, if you take those 10 assumptions that we proposed that week You just try it on, that you have to try it on really have to be brave enough to it's like trying on a singleton brave enough to you know, go to go to work and wearing that suit or going to the opera or whatever it is. You have to try it on 100% It's almost like, I think there's a relationship to let's say you decide to become a Buddhist. You went to a new sort of Buddhist teacher and just some of your friends really got into it and you went, You can't do that in a half assed way. You really have to take that plunge to if you're constantly hedging your bets. My son, my rockstar, son, when he was about 12. He said, Dad, I'm going to be a rock star. I'm going to be a musician. I said, you assurance and yeah, said good do that. He said, What about college said if you feel it, do it, but if you don't, that's okay. You could have a plan B. But if you have a plan B if you have a fallback position, you'll probably fall back. So that kid right now, last I heard of was in Miami recording with a whalers about Molly's whalers. He made that commitment. He now he, he's trapped. That's a term we used to use in South Africa. He thrashed school, he took the price when he graduated from high school in languages, mostly in French and Spanish. He was like the languages guy. And then he went to offensives he didn't go to college. Now his older sister did go to college. So that was her path. She did that she's a big deal. Lawyer right now. That was her path. She did that. And all it Yeah, I have five kids. And they're each radically different each from the other. Now we're all raised for the same basic principles. And I thought, Connie story of raising her kids in this really alternative way. I really thought that was what I was going to do. When I came to this country. It was at the time it was in the 60s that student rebellions. Kids were not happy with what colleges and schools were doing to them. And they were rebelling, and I was very interested in that field. I don't know if you've heard of Summerhill. It was an experimental school in England. It was the time of those experimental schools. How can we completely can the Waldorf system, all these different ways of alternative ways of teaching our kids? I thought, I'm absolutely going to raise my kids, I'm gonna have a whole bunch of kids and I'm going to raise them in it's completely alternative manner. I was wrong. Because when it came to do it, we were living in the Hamptons, there were alternative schools that were really expensive. There was no way we could do five kids. And the kids were thriving in the system. Yeah, his kids again, right. They really thrived within the system and then emerge, and we were hippies, and not even Americans. So the kids got a lot of flack at the beginning. By the beginning of high school, those kids were each being challenged by their schoolmates, and put down and your parents are just stupid hippies and organic vegetarians. What the hell's that? etc. And by halfway alone, things began to change. And by the end of school, everybody else wanted to be like them. They honestly were like the leaders, each of them in their own way. Who were the were leaders. Now in my music musician, son shows up those kids from school artists biggest fans, in front of their stage.
Connie  33:33
Yeah, and it's interesting because I wasn't a hippie. Okay. I was private school, New England, old family, Mayflower descendant life, my ancestors started colleges, Bowdoin College, etc. And, yeah, but I had I, I say, I was sitting on top of the Maslow's hierarchy of needs, right? You know, the triangle. You're on top. And I have a responsibility. And that's one thing these schools, New England's women's schools teach you is, of course, with privilege responsibility. Okay, I was sitting up here waving, hey, how do you do, I had the power to let my son drop out of school freedom, the freedom to do that, even though my parents disagreed and my sister was gonna report me to social services, whatever it was, I didn't care, because I came with a job to do that is raised humans that are going to contribute to society. Well, number one, number two is shift the consciousness of humanity. I mean, we're big picture thinkers, right. So we've got a big job to do. And so I could listen to my children's hearts, listen to their spirits and follow those impulses for them open the doors. That was my job to open the door for their destiny path. So one daughter, instead of going to college, went off to China was smuggled into Tibet, and etc, she ultimately put herself through college and she's now in Amsterdam. Now, yeah, for a fortune 500 company that she because she got a, an MBA and all that. And my other daughter, she had her destiny path as a writer and as a this horseback rider, and she's now supporting our family in Aspen, Colorado, with my granddaughter, and her husband, but each one has their own destiny path, we can't be channeling them into this educational system that says, you know, if you get this on this test, you're okay. And if you don't on that test, you're not and you know, your trajectory, etc, you have to have the courage and the trust, to walk in freedom, because we can do that individually. It doesn't matter what the rest of the culture is doing. If your vibration is up, you can you do anything. Because the rules that apply to you like Henry David Thoreau said, the laws that apply to you will be expanded, or new laws will be made in your favor, and you will live with the license of a higher order of beings. That's in his conclusion to Walden, I quoted that last time. But that's when you walk confidently in the direction of your dreams. So it's just up to us to give people the courage to go there. And, and as Andrew said, it is a process. For me, it's like, absolute. So I'm not really one to speak, because I it hasn't been a process for me fear was never one of my things. And, you know, I just came in for a different ride. And, but it is a process, like Andrew says,
Clay  36:49
what I'm hearing is that each of you have created an environment for a young person to, to develop, I call it, let's call it solar energy and their lunar energy. You know, traditionally the solar, you know, leads, you know, that's the, traditionally the male energy and the, the lunar, the, the, the woman the female energy, but we have all have both, and what what I'm getting from this conversation is that you allowed whatever that was, wherever they were to find, find its own space, its own space to not be forced your your guys so you got to follow this path, you're a woman, you got to go this way. But to find themselves along here, and I know y'all gave guidance along the way, but you were kind of tapping this side tab on the side, and letting them find and develop their heart as well as their head and then integrating in finding their own equilibrium within that integration. If I could turn the clock back boy,
Dennis Tardan  38:09
I understand that. But one, one of the things that that I miss that I feel like I missed when I was growing up, was that I, I went very much I looked up at in in the 50s I looked up at adults as a child and when they really don't know what they're doing, they really don't know what's going on. So I'm going to take this myself, I'm not going to really listen to what they said I'm just going to end and the only the end the challenge with that is that I never learned as a child what value there could be in hard work, how what value there could be in delayed gratification, I didn't get that I didn't get the chance you know really defeat to you know, like fight when you do that that beautiful mandola behind you to be able to have that sense of being able to do a piece and work on it and build it if I didn't get that that instantaneous gratification so therefore it took me a while before I got until I was in my 30s that I began to see that experience of being able to now was felt that if I could have had someone that could have sat with me and helped and modeled for me and helped me to go to what the value of that delayed gratification so that's the learning that I'm getting that I'm getting now that I did not get as a child that I just went I just dismissed dismissed
Connie  39:40
Guess what? It's your souls journey. Everything has been perfect. I agree. I souls journey I know what if and if only. Okay, here I am world and I've got this work to do and get that work done because the earth is moving into to a higher frequency, we got to get that shadow work done that less than that. Okay? And if only and what if, etc.
Dennis Tardan  40:10
I don't go I don't go there, Connie. I really don't. I am so appreciative of everything that got me here today.
Connie  40:17
Yeah. Sweet, sweet, that's important.
Andrew  40:20
So Dennis, you're, you're bringing up for me the idea of the mentor of the wise elder in the village, you know, where a young woman or a young man has an elder to go and, and just sit with and learn from, maybe I'm gonna trade or learn a technique or talk about spiritual matters or talk about leadership or talk about marriage or childbirth, whatever the subject might be. Right. And it's something that I think I think we lack that we've lost as sort of white Westerners in particular, I think the Native Americans have more of that still, to this day, despite everything that they have struggled through, they've kept certain things, Connie, and I believe she'd agreed we we get a lot of inspiration from our indigenous friends. There's something there in the non white non western world that has real value that we tend to do we, the white Westerners, and to denigrate that to like, you don't have a religion, you're not, you know, you're not very bright, you're primitive, and all of those things. And I'm so delighted that we now live in a time when we are have woken up, I think it started back in the 60s, and maybe started earlier. But in the 60s, where we suddenly started paying attention to the Native Americans in this country, for example, going and sitting at a peyote ceremony in a teepee, those kinds of extraordinary experiences that are missing. So if my kids, I know one complaint my kids had about me, or at least my middle boy. And that said, I didn't give him enough and holding support. I trusted him too much. I gave them a very clear, they had a strong one who was great. And what I gave them was the instruction that you are free. However, with freedom comes self discipline. Think about that, to my boys. Think about that. You are responsible for your for the results of your actions. So if you go get go down a path, and my youngest boy nearly did. He actually is one of his best friends just died just a month ago, over here on heroin overdose. I mean, there was heroin in that Hamptons community. And in those getting into drugs, kids were getting into breaking into places to get money to buy drugs, and with those kinds of things going on. And of all my kids, only my one son went to the edge of that. And we saw that we had an idea. And when your local cop, a policeman, and we called him and we said, look, I think our son's maybe getting to hang out with the wrong people. And long story short, a week later, son comes home from school walks into the living room, there's a uniformed officer there. And we just introduced him and left. That did the job.
Clay  43:29
Interesting. I want to ask a question. Because you're touching around a subject that that keeps coming up in my mind. And first of all, I I think that we've got a population, the Western civilization, that we have a population of a lot of adult children. They've they've not gone through the ritual change from childhood to adulthood. I would say it's initiation. Now, initiation is a loaded term, because it brings up a lot of misplaced activity that just gotten a bad rap. And so initiation when I ask people about it, or initiation or rite of passage, well, what was it? Oh, when I got my driver's license? No. Yesterday you were a boy. And today you're a man and you take on the mantle of a man. You can still live what's in your heart to live. But there's never been that that not never. I can't say that. But less and less there is that that demarcation Point. And I wanted to get your thoughts on that.
Clay  45:04
So let me just say this. I grew up in Africa. At the age of three, I was transplanted from England where I was born to South Africa and grew up in the midst of a culture, specifically the Zulu people who have very strong age groups. Yes, they have these initiations at different ages, and the boys and the girls, but no more about the boys. And the boys will have a circumcision. Yep. At puberty, for example, which is a painful, dangerous thing. Yes. And they would go through this together as a group, Nelson Mandela went through this, he spoke about that. I ended up getting a degree in social anthropology because I realized I was more than a science guy. But I realized I was actually more interested in human beings and our potential than I necessarily was in physics, or math, or chemistry, which were my fields before that. So those cultures have very specific systems of mentorship. Absolutely rigid Age, Group initiations, when you reach a certain age, such and such happens when you're a little boy, you're looking after the chickens later on, you're looking after the goats later on you with the cows. Right. And later on, you're out hunting the lion, and then you're allowed to marry. And none of those things can happen before a certain time. And before you've passed the test as its as,
Clay  46:29
right. Right. And, yeah,
46:31
and so much that's so radically different from our culture,
Clay  46:34
right. And so, and I witnessed this in, in Kenya, when I was there, I saw it on the news, a woman newscasters. And this season, we will have initiation ceremonies, for 20,000, young boys, and all the hospitals and all those support systems are in place for this. And what I learned was that, yeah, they're publicly circumcised. And if they flinch, they bring shame on their parents. Now, in that culture, for that time, in that tradition, you know, I don't judge it. But there's something between that extreme and nothing, right. And unfortunately, we're swinging towards this nothing. And so we've got a bunch of adult children running around. And unfortunately, they're in politics, they're leading corporations, etc, etc.
Clay  47:39
And they were raised by women, by the way, because most of us men in this culture have to go to work. And so I was, right. If you spoke to my, the mother of my children, she would probably say you were an absentee father. And I said, Yes. Because I had to go to the city and work and bring home the bacon and bring home the money. And mom was very responsible for how other kids, including the boys were raised. Sure, yeah.
Connie  48:07
Yeah, I just like to say something. Because I always bemoaned the fact that I wasn't part of a culture that had tradition. Okay, so what you're saying, and then this grandmother, in native grandmother came into my life. And she said, Yeah, traditions over, I was told not, she said, I was told not to bring my all my ceremonial implements out here to Colorado, with me, because it's over. It's a prison. And his, you know, you have to do this at a certain time, you have to do that. Blah, blah, blah. You know, so she and this was in the 90s. And so, I think it's just important to one thing, recognize that each culture, each color of man has a role to play in the evolution of consciousness, and the evolution of the cosmos, because everything we do affects the cosmos. Moving this in science now that the human heart and our emotions and everything actually were the same energy is all the cosmos. So we are in process and this is from the egos perspective, from Native perspective, the high visionary elder perspective, that every race has had a job to do in this process.
Clay  49:36
Well, and that's a whole that's a whole nother nother realm to get into and, and it's a it's a tough one to talk about. Especially, I mean, Dennis, you know, you and I, of course, have been in that's been on the show before, and so I get that, but I'll tell you what, Here's what I think I'm, well, I've learned it with, with willing, Cynthia, at the gender equity and reconciliation that we're all wounded.
Andrew  50:12
Yeah, you got mutual wounding
Clay  50:15
that regardless if every one of us is wounded, or wounded, through patriarchy through however it is. And that's our common ground. And if I can look at you, Connie, and say, Here, a wounded soul, you know, I have people look at me, so we'll play, you've got everything going for you, you're privileged, white western male. Well, I wanted to, you know, and here's this not comparing loads, but that's our, that's our common ground. And if we can look at each other beyond the surface, and recognize it, that suffering, we both share, and maybe there's hope at this higher level of consciousness. Dennis,
Dennis Tardan  51:07
I completely agree, because that's what I, I get into that comparison mode. And that's where I want to, because I'm a, I believe that we can this, this is where where the the whole piece of, of that comes in. Connie about about white shaming, and how this all this work, I don't believe that that's that's the process at all, we each have to carry our own responsibility for who we are and how we behave to day and behave like that. But you know, and I cannot know what it's like to be a woman, I cannot know what it's like to just say to a child, but I can be your ally, I can be your ally, and make sure that your rights are protected, and make sure that your rights are protected, and do the best that I can to be able to do that. I can't know another person's, but I can be your ally, I can be your ally. And I can also walk in my own perspective, in my own truth, to be able to uplevel my consciousness on each and every day, whether I'm sitting in a meditative chair, or whether or not I'm going and helping someone across the street. I have both of those things to do. That is my work to do.
Clay  52:25
I'm going to pick up on that, Dennis, because I want to go back to Connie, something that she said early on, about how you grew up in Maslow's hierarchy of needs. And it's incredible to me, yeah, you say I was at the top. And that's how your your family was? And look at what your family brought. for the greater good.
Connie  52:52
Absolutely, you know, they gave away the family fortune to the people of Maine, parks and mountains. And that's right giveaway was huge for them. That's right,
Dennis Tardan  53:04
That's part of the deal of really understanding what is enough. And also, I love what you said about the about returning those who have those to whom have a lot has been given a lot of expected. And they returned back to the process. And that that's one of my great quest is to ask people, What is enough? What would be enough? And it doesn't matter what your number is, would you know it when you got there? Does Jeff Bezos know when he gets there? When he you know, okay, I have enough. That's all I need. And all me do we actually ask ourselves that question in the Western world. What is enough?
Connie  53:57
Our whole system is based on the problem of scarcity, our whole economic system, okay, so when the scarcity does fear, will there be enough to morrow? So then we start hoarding, okay, so in the trust frequency and a native way, the giveaway is huge. And in my family, that giveaway, okay?
Dennis Tardan  54:20
That's circulation that things circulate in our body. What things circulate in the universe, why would they not circulate here? Why would that one place no longer be a law?
Connie  54:33
Yeah, and and it's a it's a, again, it's vibration, its frequency. So when you're in that higher frequency, there's more abundance and you can fathom Jesus with the loaves and the fishes, etc. John Lennon with imagine, you know, they're telling us they're showing us something, there's another ballgame. And we were in a lower frequency of scarcity and separation. And so that fear is So that's what created these systems that we've responded to and played ball with. Right in order to survive, right? A little girl and 77 year old girl, how are you going to get a job Johnny, if you don't go to first grade,
Andrew  55:14
Loaves and fishes has a problem, and that is what are you going to do with 40 bushels of leftovers? I mean, that's the problem. The problem is so much abundance that you can't believe it.
Clay  55:26
Well, you're so so right. And I mean, we've just, we barely even scratched the surface of this whole topic. Oh, yeah. In the men's work. You know, I mean, we touched into that. There's so much, much more in such a dynamic time for men, for young men. And for the second half of lifers. Absolutely. It's just it's an incredible time of change. And I'm heartened because I hear more and more and more of men's work that's being done. That is heart centered, knowing what you're doing really healing in. And I feel like it's so wonderful. So Dennis, back to you.
Dennis Tardan  56:15
Well, I am just so grateful. I'm just I'm so grateful that we get an opportunity, Andrew and Connie to be able to continue the conversations about all of our vibrant our vibrations and how we are bringing more compassion onto the planet because compassion has to be part of this vibrational frequency to I mean, it has to be part of who we are. And that's what we are in search of. And that's what we're in search of, without and within, as we said on the other broadcast, and I'm so grateful that you would give us with another hour of your time another hour the graceful all the links for everyone who's watching or listening will be on the on the webpage and and we look forward to continuing conversations and also we might even be able to meet some of your family and bring out have a little bit of this intergenerational conversation along the way.
Clay  57:06
I'd be willing to ask my boys if they come on.
Dennis Tardan  57:10
Good. Hi, I'd love to be able to do anyway thank you for thank you clay for inviting me along the journey of in search of the new compassionate male and Connie and Andrew, thank you so much for giving us this time today. And we will it will not be long before we will see everyone again and thank you so much for joining us in search of the new compassionate male. We'll see you next time.
Clay  57:36
Check out the latest episode of In Search of the new compassionate male on your favorite podcast Station.