Sande Hart is the Founding Director of the Charter for Compassion Women and Girls sector, Founder and President of the women's interfaith organization S.A.R.A.H., Past Chair of the United Religions Initiative for North America, and co-Founder of Alchemy Productions. She is a Mother, Daughter, Wife, Sister and Aunt, and new grandmother!
A certified Compassionate Integrity Trainer, Sande is passionate about leading people to a new understanding of who they are through the lens of compassion and compassionate action, and the role they contribute to the world around them. With a strong emphasis on personal awareness and self advocacy, Sande developed the 18th Sustainable Development goal with the intention and expectation that  we will wake up to our personal responsibilities to be stewards of our planet and those we share it with.
With a strong commitment to elevating women and girls by providing dialogue and circle experience, Sande's workshops and productions provide opportunities for weaving relationships, and being in service to the divine feminine that is rising strong in our world right now.
Sande speaks and conduct workshops on a variety of topics relating to community building, women and girls, and kids activism through service.
​Paying attention to patterns in community and community building, it became clear that, with some thoughtful adjustments that seem to be easily missed, and some safeguards in how leadership teams work together, we could accelerate and leverage the highest vision and success of any given group. – Sande Hart
Podcast: Play in new window | Download
Subscribe: JioSaavn | TuneIn | Anghami | RSS
Upcoming Programs:
The Death Throes of the Patriarchy (Link):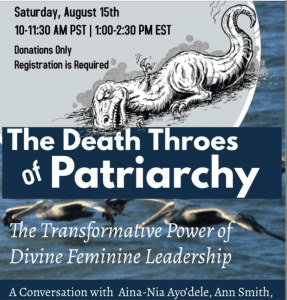 The General Congress of Women (Link)

***
About Search of the New Compassionate Male with Clay Boykin. I am convinced that amidst all the turmoil in the world a New Compassionate Male is emerging, and this New Compassionate Male is emerging as the New Archetype. ~ I am on a journey to every corner of the planet. I am on a journey within; a journey of self discovery to learn what it means to be a compassionate male. ~ I do not have the answer, but I know there is a spark of compassion emerging within every man and within every woman. Regardless of sexual orientation, nationality or religious tradition I invite you to join me. Let's travel together and find answers to questions like: Who is this man? What makes him compassionate? Is he born this way, or how is compassion learned? Is there a place or time where compassion is not relevant? How many ways does the compassionate male show up in the world Together, we can find him. Together, we can hold a mirror up for one another and find the compassion within ourselves. ~ The more adversity there is in the world, the hotter the ember of compassion burns within. It may be smoldering and unrecognizable at the moment, or burning brightly lighting and warming others. ~ Who is the New Compassionate Male? Join me in our search.
Creator – Clay Boykin – clayboykin.com
Producer – Dennis Tardan – DennisTardan.com
Follow me on Facebook: In Search of the New Compassionate Male
Twitter: @ccboykin
Write me at: [email protected]
Circles of Men: A Counter-Intuitive Approach to Creating Men's Groups – Compassionate men gather differently. – "With this book, Clay Boykin has created a spiritual blueprint for men around the world. Not only does this book provide a detailed guide for starting and maintaining a men's group, but it also contains rich insight into the struggles and challenges of being a spiritual male in today's western culture." – Review on Amazon