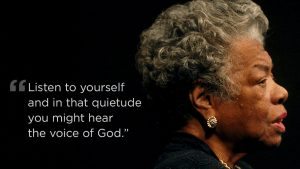 She was an American poet, memoirist, and civil rights activist. She's best known for her series of seven autobiographies, which focus on her childhood and early adult experiences. She was respected as a spokesperson for black people and women, and her works have been considered a defense of Black culture. She's Maya Angelou and here in video are her Top 10 Rules for Success, and her famous poem, Still I Rise.
1. Just do right!
She became a poet and writer after a series of occupations as a young adult, including fry cook, sex worker, and nightclub dancer.
2. Be courageous
She was an actor, writer, director, and producer of plays, movies, and public television programs.
3. Love
In 1982, she earned the first lifetime Reynolds Professorship of American Studies at Wake Forest University.
4. Laugh
She was active in the Civil Rights movement and worked with Martin Luther King Jr. and Malcolm X.
5. Be a blessing to somebody
Beginning in the 1990s, she made around 80 appearances a year on the lecture circuit, something she continued into her eighties.
6. Turn struggles into triumphs
With the publication of I Know Why the Caged Bird Sings, Angelou publicly discussed aspects of her personal life.
7. You are talented
Attempts have been made to ban her books from some U.S. libraries, but her works are widely used in schools and universities worldwide.
8. Learn to say no
She made a deliberate attempt to challenge the common structure of the autobiography by critiquing, changing, and expanding the genre.
9. Always do your best
Her books center on themes such as racism, identity, family, and travel.
10. Keep rising
She received dozens of awards and more than 50 honorary degrees.
Originally posted Semptember 21, 2016 by: Evan Carmichael
Related Links:
Wisdom
Inspiration
Positive Thinking