Clay Boykin
Personal Mastery Coaching
Because we all get stuck at times
Unleashing Your Potential
I'm a firm believer that we all possess the keys to our success. As your coach, my purpose is to nurture an environment where you can unlock these keys. I'm dedicated to aiding you in uncovering your authentic self and guiding you towards even higher levels of accomplishment, moving beyond any feelings of limitation.
We all experience moments when things are flowing smoothly. You might have felt a surge of excitement and determination while unraveling a puzzle or embracing an opportunity. Or perhaps you're on a quest for even greater fulfillment in life. It's also possible that you are on a journey of growth. It's fantastic, and what's even more thrilling is discovering how to enhance it further.
Amidst turbulent and unfamiliar waters, heed ancient wisdom: Choose a Pilot! A key figure in harbors worldwide, this adept guide ensures safe passage through the unfamiliar.
My gift to my son? Coaching by Clay Boykin. Former-Marine, business leader, and world traveler, he shapes self-perception, offering adaptable success strategies beyond simple advice.
Anticipate, don't remedy shipwrecks. Enlist a Pilot… Clay Boykin!
Jack Frick, M.Div., CIC, CISR, AIS.
…a counterintuitive, uplifting and practical approach…
It's important to recognize that there isn't a one-size-fits-all formula for reaching your goals, and I'm enthusiastic about helping you design your individual route to achievement.
I will join forces with you, embracing a counterintuitive yet uplifting and pragmatic approach to our collaborative efforts. Together, we will forge a new framework through which to comprehend your reality. Our venture will encompass the exploration and affirmation of your life's purpose, the unveiling of untapped potentials, and the resolution of your questions and challenges.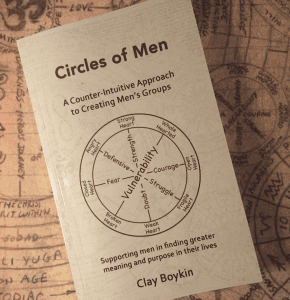 Circles of Men: A Counter-Intuitive Approach to Creating Men's Groups, is a self-help book. The book describes a specific model for creating and facilitating men's groups, which are meant to provide a safe and supportive space for men to explore their emotions, connect with other men, and work on personal and collective growth.
The author, Clay Boykin, draws from his own experiences as a facilitator of men's groups and shares his insights into the unique challenges and opportunities that men's groups can offer. The book emphasizes the importance of creating an atmosphere of safety and trust, where men can be vulnerable and honest with each other, and it offers practical advice on how to do so. The book also covers a series of exercises and activities that can be used to facilitate the group's sessions. They are meant to help men to explore their emotions and inner selves, to find their authentic voice, and to create deeper connections with other men.
The book's counter-intuitive approach, as stated in the title, is the idea that men's groups are not only beneficial for men, but that they are also essential for the well-being of society as a whole. The author argues that men's groups can play a crucial role in addressing issues such as toxic masculinity, men's mental health, and the breakdown of communities, by providing men with the tools and support they need to become more authentic, compassionate, and responsible individuals.